Waffles used to be associated with Christmas markets and all-inclusive, hotel breakfast buffets. But like so many of it's dessert sisters and brothers, London waffles' status has risen dramatically over the years to something of a staple in the land of the pud. So sit back, grab Google Maps and set about finding THE best London waffle houses, nay, palaces!
1. Kula Café.
Tucked away in Marylebone is this gorgeous little Swedish hotspot which serves incredible waffles AND the best hot chocolate you will every try short of running off to Paris (yes, it's even better than Paul's). Their smoked salmon Eggs Benedict waffle may sound a little peculiar (but…waffles…aren't…savoury?) but it's by far one of their best items.
 21 James St, London W1U 1DS
2. Wafflemesiter.
These guys are right next to the royal borough so as you can guess their waffles are pretty regal. The dough is made from a 1950's Belgian family recipe and  the classic 'liège' starts at only £2.35. Also 'meister' means master in German. Nuff said. We say try the nutella waffle (because we are and always will be obsessed with the stuff) and wash it down with a signature hot chocolate with extra marshmallows.
 Branches in South Ken, Portobello Road, Oxford Street, Liverpool Street Station, Kingston.
3. Bubble Waffle ((FREE FOOD ALERT))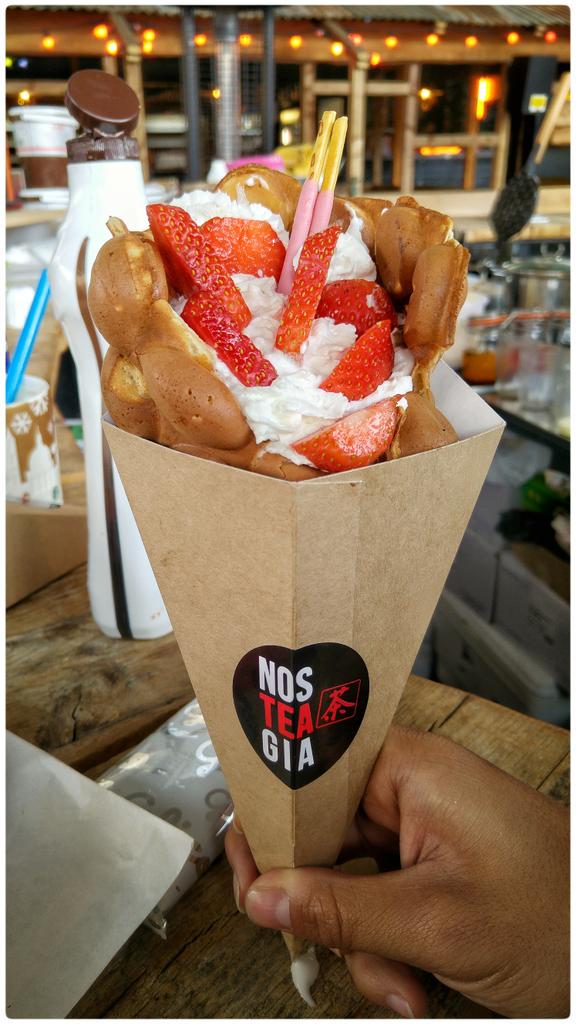 Bubble tea is something of a hit and miss with the masses, given its visual similarities to frogspawn. Bubble waffles on the other hand? Everyone's a winner. Nosteagia serve 'Puffle Waffles' (which are just as adorable as they sound) with a variety of delicious toppings both savoury and sweet. The beauty of these babies is that you don't get the same heaviness of the batter you do with regular waffles and they're served in cones for ease of handling. Oh and we've scored you a FREE WAFFLE ON US.
Yep, we got you a 100% FREE Bubble Waffle when you download Fever and enter the code WAFFLICIOUS, which will give you £5 credit to spend on either the Black & White or Marshmallow Chocolate waffle (between us, we'd say try the marshmallow for some seriously fluffy fabulosity).
Find them in Pump, Shoreditch, The Old Petrol Station, 168 Shoreditch High Street, London E1 6HU.
4. Barnyard.
If you do things a bit differently in life, it can work wonders. Like when Taylor Swift branched out from country to pop and consequently shook the world by its very lapels. Barnyard use acorn flour to make their brunch waffles and they serve it with maple syrup (obviously) and smoked butter. There's some sort of nicotine obsessed squirrel joke in here but it's been a long day.
18 Charlotte St, Fitzrovia, London W1T 2LY
5. Waffle On at the Watch House.
Our only waffle-collaboration in the list, this pop-up began on the 3rd of September and has already been a huge hit in the waffle crowd (yes such a crowd exists). Maltby Street market babes Waffle On have teamed up with the super suave coffee connoisseurs at the Watch House to bring you waffles seven days a week from 5pm until late. Yo, we've already told you that fried chicken and waffles are the best thing in American imports since Suits started waving their Harvey Specter flag in our faces, and Waffle On's are not 'poultry' in their serving sizes either.
The Watch House, 193 Bermondsey Street, London SE1 3UW.
So there you have it. We don't want to waffle on so we'll leave you with some wise words from Ms Leslie Knope, Waffle Queen.
*Wondering where the Duck&Waffle is on our list? Well we've already written about them here and here so I think you can safely assume that their waffles are, how you say, the shit?