Drum roll please… The moment has come. We're unveiling the baddest list of all: The Bucket List. And it's all about food. Some of these are so bad they're good; some of these are just plain good. Either way, you can't call yourself a true Londoner until you've tried them all.
1. Bacon and maple syrup brownie
Where? Bad Brownie.
Why? Because it's even better than their salted caramel brownie, which, if you know us at all, you'll know we love.
2. Pizza Burger
Where? Ed's Diner.
Why? Because the Bro Points for this one are off the chart.
3. Spicy Ox Cheek Doughnut
Where? Duck And Waffle.
Why? Because you can eat it at 2am on the 40th floor of the Heron Tower.
4. Scotch Egg Burger
Where? Yeah! Burger (they pop up – check out their Twitter for info).
Why? Because it's the weirdest thing anyone has ever done to a burger but we love it.
5. Champagne Ice Popsicle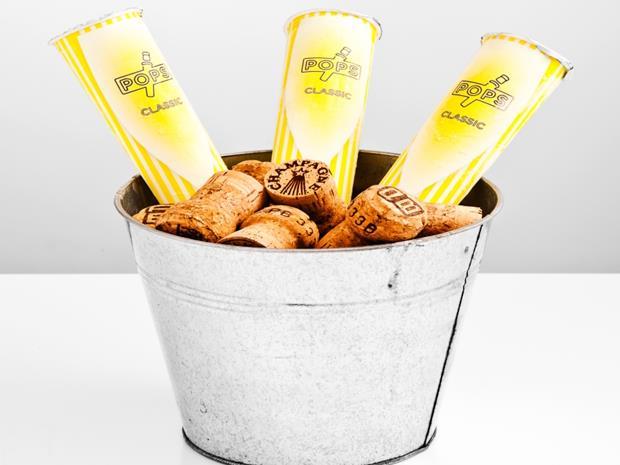 Where? POPS. (They get around – check their website for a list of stockists).
Why? Because it looks like a Calippo but it's a million times more fabulous.
6. Peanut Butter and Jelly Sandwich
Where? Spuntino.
Why? Because PB&Js are amazing enough and then they go and make an ice cream version.
7. Oreo Pie
Where? Rita's.
Why? Because look at it.
8. Mac And Cheese Burger
Where? Dirty Bones.
Why? Because it's creamy and meaty and oozing and FILTHY.
9. Honeycomb & Lemon Curd Cruffin
Where? Foxcroft & Ginger.
Why? Because it's a cross between a croissant and a muffin so it's basically breakfast twice.
10. Elvis Presley Ice Cream Sandwich (with bacon)
Where? Foxlow.
Why? Soft serve ice cream, peanut butter, banana compote sandwiched together between fried brioche and topped with bacon and maple syrup. And that's all.
11. Salt Beef Bagel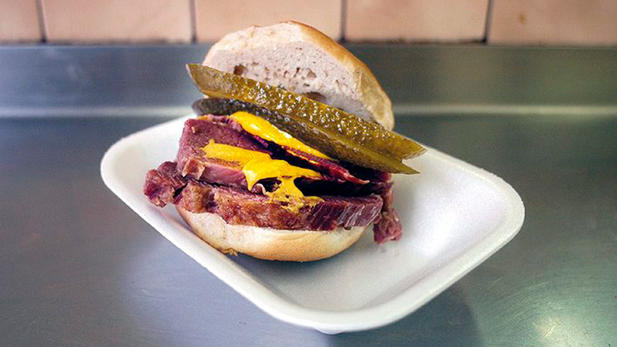 Where? Brick Lane Beigel Bake.
Why? Do we even need to justify that with a response?
12. The Full English Bread
Where? The Barge House.
Why? Because you don't have to ask for extra toast.
13. The Doughnut Burger
Where? Red's True Barbecue.
Why? Because everyone loves eating pudding before main. And now you can just eat both at the same time.
14. Meat Fruit
Where? Dinner By Heston Blumenthal.
Why? Because that ain't no ordinary fruit… There's MEAT in that fruit.
15. Coq Au Vin Poutine
Where? The Poutinerie.
Why? French fries, cheese curds, roast chicken, bacon, mushrooms, onion and gravy. O Canada, O Canada…
16. Deep Fried Oreo Doughnut
Where? The Original Crispy Candy Co.
Why? Because Oreos were amazing enough and then they went and deep fried them.
17. Baby Got Mac Grilled Cheese
Where? Grill My Cheese.
Why? Because if there's anything better than a grilled cheese sandwich – it's a grilled Mac & Cheese sandwich.
18. Nutella 'Duffin'
Where? Bea's Of Bloomsbury.
Why? Because Nutella is the food of the Gods and the word 'Duffin' is just too great to ignore.
19. The Classic Tortilla
Where? Barrafina
Why? Because you won't get a better one outside of Spain.
20. Raspberry parfait, manuka honey cake, hops jelly, puffed spelt
Where? The Modern Pantry
Why? Because pudding for breakfast is the key to our heart.
21. Ari Gold Burger
Where? Patty & Bun.
Why? Because…it's the best burger…in London? (Big claim, we know).
22. The Hawksmoor Breakfast
Where? The Hawksmoor.
Why? Because it literally laughs in the face of the standard Full English.
23. Nutella Pizza
Where? B-Soho.
Why? Because you thought it was wrong until you tried it.
24. Nitrogen Ice Cream
Where? Chin-Chin Labs.
Why? Because it makes ice cream more fun than it already is.
25. Moqueca
Where? Sushi Samba.
Why? Because we literally could have picked anything from that menu and you'd still be drooling.
---