Usually from a paper packet that used to get stuck to the ice cream itself and lend a certain woodiness to the overall taste. But ice cream sandwiches, just like every other food it seems, have been given a revamp. Here's our guide to London's most saucy sandwiches guaranteed to turn you into a puddle. SPOILER: MOST OF THESE ARE UNDER £5 SO GO, GO GO!!!
1. For the not so anonymous chocaholics: Brownie Sandwich at Batch Bakery: from £3.50.
Combining two of the most calorific yet delicious desserts EVER, the boiz at Batch Bakery know whats up. Find them at Camden Lock market every Saturday & Sunday from 10am till 6pm.
2. For the lovers of all things tradish: The Classic Wafer Sandwich at Cinnamon Parlour: £5.
See this is how you should do a wafer. Cinnamon Parlour we salute you. Find them at Anise, the Cinnamon Kitchen's bar in Moorgate.
3. For presentation perfectionistas: Blu Top Ice Cream Sandwich: £3.50-£4.
God these look good. God these TASTE good. Blu Top trundle around only serving ice cream sarnies, how ace is that?! Follow them at @blutopicecream to see where they'll be next.
4. For a decadent PB&J: Peanut Butter and Jelly at Spuntino: £6.
But wait, you ask, where's the bun? Um it's the ice cream itself. Whaaaaaaat. Spuntino in Soho is where you'll find this beauty.
5. For those who want to feel slightly less guilty: Oat and Raisin at Ruby Violet: £5.
If it has raisins in it then it's healthy because raisins were once grapes and grapes are one of your 5 a day and, and… Ok just eat it because it tastes nice. THERE (go to Kentish Town to find them).
6. For a little bit of what you fancy: Salted Butter Caramel Sandwich at Milo and Hectors: £4.
This makes me want to slide in the middle and nestle amongst the dairy goodness. Milo and Hectors are all about the goodness and frankly you can see why. Find them at Maltby street market every weekend or follow them on twitter for more info @miloandhectors.
7. For the most sandwich-y of all: GAIL's Sandwich: £6.*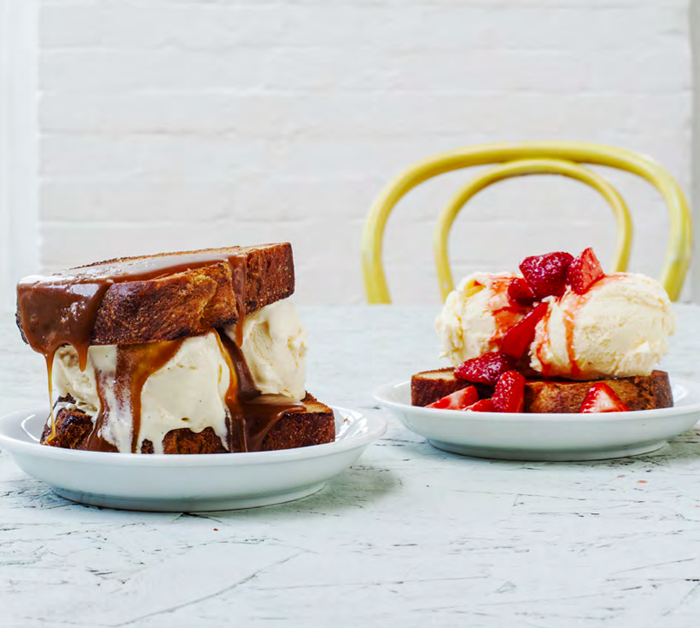 This one was a pop-up but we're sure if you begged hard enough they might just give in. Gails are all over London so if all else fails keep trying until they change their mind…
8. For that decadent lifestyle: Popcorn sandwich at Elk in the Woods: £5.50.
If it's served on a wooden board, you know they mean business. And we know the picture looks like cheese but believe me that is a whole other dairy deal right there. Head to Camden for this delicious deal.
Hope you're happy everyone, we tried to lick the screens too.
---