"Funded by the Mayor of London and supported by Arts Council England, the programme invites world class artists to make astonishing new works for the centre of the capital city."
This was taken from the London City Hall website regarding the Fourth Plinth Programme. Now I don't know about you but the image of a big blue cock(erel) is certainly an 'astonishing' one that will stay in my mind for years to come (for sheer WTF-ness more than anything else). The new 'Gift Horse' sculpture is also a good un'; a tongue-in-cheek comment on the original equestrian statue of William IV, planned for the same spot and scrapped due to funding issues. But I'm sure we've all secretly thought of plenty of things we wouldn't mind seeing up on that plinth. Here's our definitive list of what we at Secret London think would impress us imbeciles- sorry i mean 'Londoners'.
A shoutout to London's 'foxiest' vagabonds.
They're so ballsy (and a bit scary come 11pm) it seems only fitting we give them some form of recognition by way of a 4th plinth spotlight. Perhaps a reimagining of the kipping cub in Notting Hill; it would be sure to ruffle some (predominantly Tory) feathers.
2. Boris. In some shape or form.
It could be funny, it could be cheeky, it could be thought provoking (don't know how possible this is) but a shoutout to our mop-headed mayor would definitely put smiles on everyones faces. Perhaps capturing the infamous zip-line moment in stone might improve everyone's Mondays.
3. Maybe a shrine to Pret.
This one is probably going to offend some of you (apparently their Avocado and Chicken Sandwiches don't please everyone) but Prets across the capital feed so many of us Londoners and keep us smiling throughout the day. Those they don't feed, well, they're the type to make mean remarks in the Daily Mail comment section.
4. A dedication to London's street cleaners.
God these people deserve all the medals. Without them you'd be looking at a considerably shittier version of our beloved city. In 2009 'Ziggy Dust The Dancing Bin Man' went viral (well, as viral as you can go in 2009) because he not only brought cleanliness to our streets but her also brought a few smiles too.
5. Some sort of device that enables us to top up our Oyster. For free.
We've given you enough of our bloody money! *shakes fist angrily at the sky*
6. A Kissing Booth.
This one is a)highly impractical, b)a lawsuit waiting to happen and c)possibly the only feasible way to kiss that hottie you saw on the Northern line last Tuesday at 4pm without it being weird. No? Okay then.
7. A giant basket full of puppies.
Not kittens, because they escape fairly easily (trust us on this one) but just imagine how far the stress levels of this city would dip if we got to snuggle a puppy once a day? Obviously the puppies would be on some form of rotation and different breeds would be used to avoid favouritism. Oh and someone would have to be employed to clean up puppy poop. Hmm, this may not be so easy actually…
8. A David Bowie 'Stop, Drop and Pop & Lock' dance platform.
Watch me whip, now watch me Pop it, Lock it, Polka-Dot it. All to endless repeats of 'Modern Love'. That's what we all really want, isn't it?
9. Some of these…
or these…
or a bank of these…
So all funny suggestions aside, statistics showed that over 7,000 people slept rough in London throughout last year. The 4th plinth may not be able to house or support all that many people but it could be used as a focal point to raise awareness about this staggering and quite frankly heart-breaking statistic.
10. A 'Pie In The Face' stocks. For politicians only.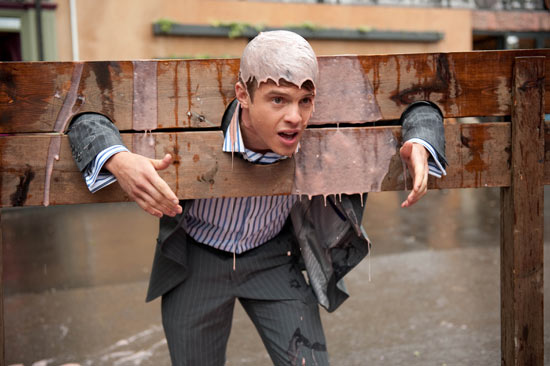 Imagine David Cameron but with half a Bramley apple pie sliding down his five head. Yup, we just fist-pumped the air too.
What do YOU think should be next on the 4th plinth? Tweet us at @Secret_LDN for your chance to win fame and fortune (aka a guaranteed retweet from our crack social media team).
---