Channel 4's latest offering gave us 24hr access to the grim N29 night bus route which is sure to have awakened many of our own macabre memories of passengers gone by. Perhaps next time you're riding around past 3am and you see some of our mentions, you could check them off like in the old school Michelin I-Spy books. Either way if one of these cross your path, you're guaranteed to have a true Rebecca Black moment… Which seat can I take?
1. The Starer
I'm going to sit here quietly, my eyes drifting lazily about the bus, until they focus on you. Suddenly an invisible layer of superglue descends over my eyeballs and I may even adjust body parts so I can view you in total comfort. You shift uncomfortably. You might start by maintaining eye contact with me but you'll soon realise you're fighting a losing battle. I invented the staring contest. When I leave you might be expecting excuses for my behaviour. You won't get any. You check your door is locked at least five times before you go to sleep.
2. The Drunken Reveller(s)
We are a common sight on any night bus but on London night buses we really are a sight to behold. With a heavy stench of beer (because it's always beer, regardless of what we drank) we will take it upon ourselves to tell you our life story, instigate a karaoke or flash the whole bus in a sordid attempt to do the splits. Why does alcohol always bring out our inner acrobat?
3. The "How You Doin?"
Hey, like a weird kind of letchy vampire, I only come out at night and boy, will I make you uncomfortable. During the day I might be the meekest and most straight-laced person you've ever met, but something about the nocturnal TFL bus service awakens my inner Tribbiani. I'll probably abandon my notions of personal space and sidle up to you when a seat frees up. If I'm male I'll probably mention how my place is only five mins from the bus stop; if I'm female I'll enjoy making blatant innuendos whilst holding onto the pole. (Actually, come to think of it, both of these are pretty interchangeable).
4. The Drag Queen Who Came In Fifth Place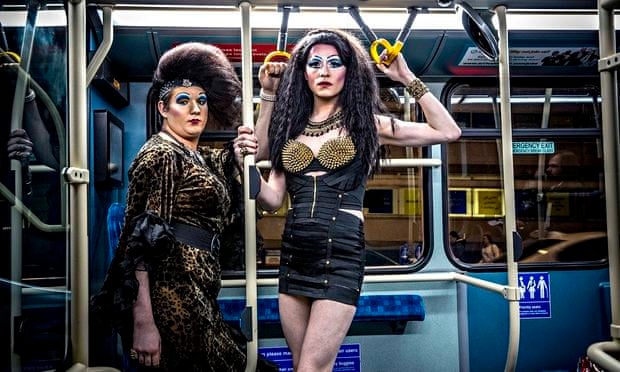 Nothing is actually more entertaining than a good drag queen on the night bus. But I am not the type you will remember lovingly. I am the sorest of losers and have probably lost many more competitions other than tonight. I will engage with you in conversation, but ONLY so I can shit on the winners of the night. I may even show you my walk to get a second opinion and ultimately fall over when the bus takes a corner.
5. The Fox
I boarded this bus by accident. I was following the scent of a Big Mac and suddenly I was trapped. You're all staring at me with a mixture of terror and confusion. Neither of us knows what to do about my presence. I shit myself.
---