Fee-fi-fo-fum. It's not just thinner air up there…life in London as a lanky-Larry is tough.
1. Needing cash.
2. Having to slow down your walking pace when with friends.
3. And consequently having other small angry Londoners bumping into your knees trying to get past.
4. Friendly hugs forever being deemed inappropriate.
5. And astonishingly awkward.
6. Having other people's faces in your crotch on the tube at rush hour.
7. Praying that they don't think you put it there on purpose.
8. This. Because you can't afford a real house with a life-size bathroom.
9. Mirrors are not high enough so you forget what your face looks like. "Full length" you say…pah.
10. Or you're continually hunchbacked.
11. Particularly on the tube.
12. Navigating the minefield of average-height people with their umbrellas when it rains.
13. People mistaking you for a hipster because your trousers and sleeves are too short for you.
14. Going to the theatre.
15. Showerheads? More like showerchests.
16. One size never fits all.
17. Having to endure the same jokes time, after time, after time.
18. Being the beacon that all your little squirts of friends look for in a crowd.
19. Having your head cropped out of every photo.
20. Being called the BFG always, or the Jolly Green Giant if you wear green.
21. You can never hear people at parties.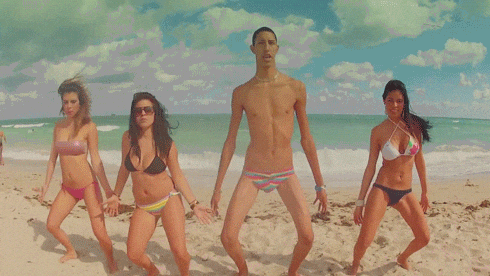 Featured Image Credit: More-Japan
---