Maybe it's just me but do you ever get the feeling when you read a 'cheap dates' article that somebody is trying to sabotage you? Sitting behind their glowing laptop screens, cackling wildly to themselves as they imagine their reader skipping off to a community education class at LSE or sweating profusely as they struggle to find a Boris Bike at Hyde Park Corner. Because the truth is, 'cheap dates' are normally code for crap ones: that, or they just end up being expensive anyway. Let's face it, has anyone ever been to the Deli aisle in M&S and not spent more than £40? Scrap the picnic in the park, we've got some great date ideas that definitely won't cost you nothing – but won't cost you your dignity either.
1. Plonk Crazy Golf, £12
Who doesn't love Crazy Golf? It's (vaguely) non-competitive and involves things like towering totems and smoking volcanoes. It also gives you the chance to do that cliché move of standing behind your date while you guide them through the perfect swing. Don't pretend you haven't always dreamed of being that guy. A round at Plonk Crazy Golf for two people will only set you back £12, if you purchase it through the Fever app and Efes Snooker Club also has a fully licensed bar. A beer can do wonders for your game (in both senses).
17B Stoke Newington Road
N16 8BH
2. Hip Hop Karaoke, £5
Why? Because if she doesn't know at least half the words to 99 Problems then she's not worth it. Hip Hop Karaoke throw pop-up parties all over London and their next one is set to be at The Jazz Cafe on the August Bank Holiday weekend. Entrance is only £5, leaving you 15 extra for a bit of dutch courage…
Various locations
3. Espadrilles @ The Dolls House, **FREE**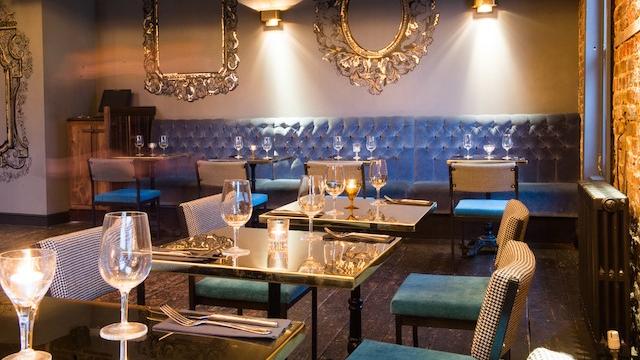 There might be no such thing as a free lunch but there is such thing as free entry to the Dolls House before midnight this Saturday. This glittering Victorian three-storey townhouse in Islington is a pretty impressive place to take a date. It exudes whimsical cool and you probably will too, when you tell your date you're headed to a night of "vintage house music, sublime Italo oddities and 80s pop noir". If you've had enough of foot-tapping, head upstairs to the Library Bar, where they serve nine varieties of espresso martini. It could be a long night… Get on the list here.
181 Upper Street
N1 1RQ
4. Eat 20 Oysters at the Richmond in Hackney
(Or a dozen and have a few glasses of wine too). Home to East London's first and only raw seafood bar, the Richmond in Hackney offers a £1 oyster Happy Hour from Mon-Fri 6-7pm and Saturday 5-6pm. Gobble them, swallow them, suck them or [insert another verb here] them. Either way, you'll be feeling the aphrodisiac effects – without the economic ones.
316 Queensbridge Road
E8 3NH
5. Columbia Road Flower Market, **FREE**
Every Sunday Columbia road overflows with bucketfuls of beautiful flowers – it's a sensory orgy of colours and sweet smells and it beats a picnic in the park any day. Stop for a cup of coffee or browse through some of the gorgeous independent galleries that line the streets. It's legitimately cheap and legitimately cute as well.
Columbia Road
E2 7RG
6. Pool Party Pub Crawl, £10
Okay, hear us out on this one. Crawling round from pub to pub doesn't sound like your average date, we know. But this one is kind of different. For one thing, it's in Shoreditch, so all Wetherspoons-related imagery can be swiftly removed from your head. The night, brought to you by 1 Big Night Out, ends at Club Aquarium in London: so if all has gone to plan, you'll be in your swimwear by midnight. It's a risky one – but for just £10 a ticket, it's a risk definitely worth taking.
---