First it was cupcakes, now the humble doughnut is undergoing a Renaissance. With fashionable fillings, stylish toppings and more colours than could fill a child's toy box, these doughnuts laugh in the face of the Krispy Kreme. They're more pricey than your average Sainsburys selection but once you've gone posh, there's no going back. Put that 65p bag down – you've pulled.
1. St John Bakery Room, Bermondsey
These are the original doughnut makers. None of that glazed American stuff either – these are jam-filled, custard-filled, fit-to-burst sugary delights. They've got a restaurant in Farringdon but your best chance at getting your hands on one of these is a first-thing excursion down to their stall at Maltby St Market on the weekend. Try a custard one, and you'll never be able to look at a wimpy ring again.
Arch 72
41 Maltby St
SE1 3PA
2. Bao, Soho
Trendy Taiwanese trio made up of sister, brother and girlfriend, took their cloud-like steamed-milk pork buns from street-eats to permanent fixtures on the London dining scene when they opened up their first restaurant in Soho earlier this year. Their dessert version of the bun is made from doughnut batter and filled with Horlicks ice cream – and they are causing quite the stir. Well worth the queues.
53 Lexington Street
W1F 9AS
3. Crosstown Doughnut, multiple locations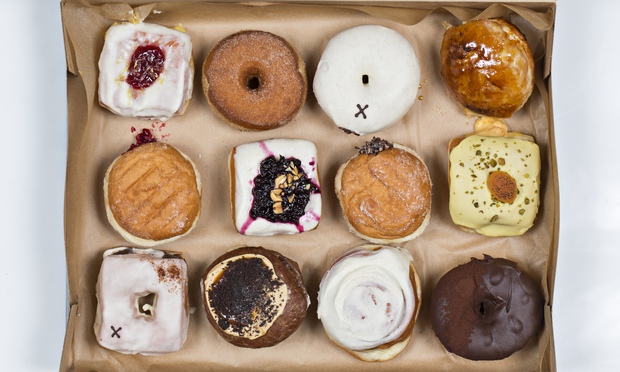 There's just no denying it – these are posh doughnuts. With varieties such as Choc Cinnamon & Passion Fruit Scroll and words like 'chocolate soil' and 'salted caramel' floating around, they're basically a middle class housewife's dream… And pretty much everyone else's too. With stockists all over London and a permanent doughnut bar in Soho, you're never too far from a Crosstown doughnut. Just how it should be.
4 Broadwick St
W1F 8HJ
4. Timberyard, Central and Old Street
The cronut – the wonderful lovechild of a croissant and a doughnut – has been a craze for quite some time now. Head to Timberyard to get your fix: the peanut butter and jam flavour washed down with a cup of coffee is a dangerously good pairing. Don't say we didn't warn you.
7 Upper Street Martin's Lane
WC2H 9DL
5. London Borough Of Jam, Hackney
London Borough of Jam have found that the best way to showcase their handcrafted, award-winning jam is in doughnut form. These are the traditional, covered-in-sugar kind but the jam packs a punch. Try the raspberry & liquorice if you're after something a little different – or the strawberry & cherry blossom is a perfect summery treat. The challenge is to eat it without licking your lips. So far: unsuccessful. Going to have a few more tries.
51 Chatsworth Rd
E5 0LH
---