Clearly, we all love Van Gogh in London as Van Gogh: The Immersive Experience has been around for almost 2 years now. That wasn't the initial plan but the demand has been so high that it's received extension after extension, and it will soon celebrate its second anniversary on July 29. Considering what you find in the exhibition though, it's no surprise. With some of Van Gogh's most iconic works displayed in some of the most creative ways you can view them, it's become a staple of the London art exhibition circuit.
If you haven't already heard of this fascinating London experience, firstly, where have you been? No judgement, of course, we forgive you. Van Gogh: The Immersive Experience brings the impasto artistry of the post-impressionist painter to life using a wealth of digital mastery and mind-boggling creativity. Don't just take our word for it, many delighted attendees have showered the experience with praise, such as…
💬 Debbie G – ⭐️⭐️⭐️⭐️⭐️ Thoroughly enjoyed learning about Van Gogh's life and seeing his incredible art through the Immersive experience. Would definitely recommend if you enjoy art and have a passion for it.
💬 Angharad H. – ⭐️⭐️⭐️⭐️⭐️ Exceeded expectations and the immersive experience was so relaxing and enchanting.
💬 Elizabeth H. – ⭐️⭐️⭐️⭐️⭐️ Stunning exhibition of one of my favourite artists that reduces me to tears in under two minutes, just so moving and so sad the dichotomy of so much colour produced by such a tortured soul. A must for ALL to experience when in London!!
You'll soon discover what all the fuss is about as you step inside a 20,000-square-foot immersive room, where Van Gogh's masterpieces blossom across the walls, materialising in plumes of smoke and ripples of water to bathe the space in midnight blues and butter yellows. You'll not only get to see once-frozen birds swoop across blue skies and watch stars pulse like glowing orbs, but feel yourself unwind as the bobbing boats of Starry Night lull you into a relaxed state. All while immersive sounds and lighting further wrap you up in the wonderful painted world of Van Gogh.
As well as soaking all that up, you can actually clamber right into the canvas as you explore the inspiration behind 8 of Van Gogh's iconic works in the VR experience. Slip on the goggles to embark on a visually rich journey where you'll stroll through fog-laced woodland, wander along a moonlit waterside and take a peek at Vincent's Bedroom at Arles. Plus, budding young artists and those who fancy adding their own special splash of colour to Van Gogh's iconic pieces will get the chance to see their no-doubt amazing artistry displayed on a digital wall. So, what are you waiting for? Grab your tickets today!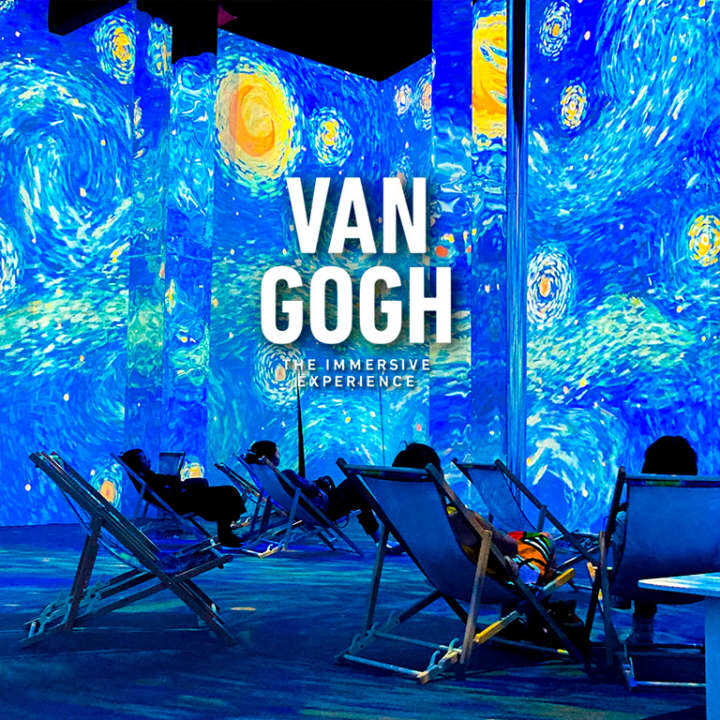 Van Gogh: The Immersive Experience
---