Sin arrives in October, and it should be right up our street.
It's good to be bad, isn't it? I mean, if it wasn't, artists throughout the years wouldn't have spent so much time depicting wickedness, lust, and wrongdoing on canvas, would they? That's the starting point for The National Gallery's upcoming exhibit, which aims to explore the concept of sin in art. Which is an opportune to bring out this GIF: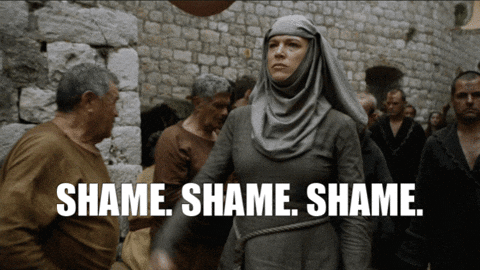 Lust, gluttony, envy, greed, pride: all the old favourites will be filling The National Gallery from October 7 for an exhibition simply titled Sin – in what amounts to potentially the most heathen collection of art ever assembled. It'll feature pieces from Diego Velázquez, Andy Warhol, William Hogarth, and Tracey Emin, ranging from Renaissance religious scenes to ultra-modern explorations of love and sexuality. Best of all, it's completely free to enter (because sinning shouldn't cost the earth)!
SEE ALSO: The Best Art Exhibitions Still To See In London This Year
The National Gallery say "sin is something everyone can relate to" (#Guilty), and promise an exhibit that delves into theological debates and everyday sinning in equal measure. It was originally due to start in April, but since even the onset of a global pandemic couldn't stop the sinning, it's been moved to the autumn. One of two things will happen when you leave; either you'll feel your soul lightened by the knowledge that everybody sins, or exit increasingly convinced of your own eternal damnation, dragged away from the righteous path by repeated wickedness. Either way, fun times await!
Sin will run at The National Gallery from October 7 – January 3, 2021, and entry is free. Find out more about it from their website.
Featured image: @nationalgallery
---
Also published on Medium.
---