The Van Gogh Immersive Experience is surely a staple of London's art scene by now with all the extensions it's received. The enthralling exhibition is an ode to one of the art world's most iconic names with plenty of bells and whistles. It's not your typical gallery set up of white walls and framed paintings behind glass. Instead, thanks to cutting-edge technology you will literally walk through not only the maestro's works but also a day in his life thanks to an excellent VR experience. It blurs the line between art and technology in a balanced way that creates an experience that will leave you with nothing but great memories. In fact, it might even make you want all your future exhibition plans to have an immersive element to them.
If you haven't been to the Van Gogh Immersive Experience yet, what have you been doing? You've almost certainly heard about it by now and you've probably even had to agonise about when the right time to book tickets was with slots constantly selling out in no time. Well, the answer is now is the time to book tickets. The exhibition was originally scheduled to close in early 2022 but has been so universally loved that it's been extended multiple times.
Artwork from the iconic post-impressionist painter Vincent Van Gogh comes to life in the 360-degree digital spectacle that's currently illuminating and transforming 106 Commercial Street into a fully immersive exhibit. At this incredible Van Gogh exhibition, you'll see the painter's work take over the walls and alter your surroundings through the lenses of several dozen projectors, hyper-realistic VR headsets, or a mix of both!
After successful exhibits around the world, the spectacular Van Gogh exhibition has set up shop in a historic East London venue. Transforming 19th-century stable building, Commercial 106, this multi-sensory journey through Van Gogh's famous bodies of work offer an entirely new way of experiencing art, bringing every brush stroke to life. And we do mean that literally, thanks to some nifty projection work!
Guests enter the experience and are greeted by an Instagram-ready wall of beautiful sunflowers, which we were obviously quick to pose in front of. From there, the exhibition is split into three parts to unravel the stories of Van Gogh's art and life. Using cutting-edge technology to create animated displays of Van Gogh's masterpieces, you'll be immersed directly into the paintings themselves. Ever wondered what it'd be like to look up at a Starry Night, or see the birds fly through Wheatfield with Crows? Well, you'll be able to do just that at this incredible exhibition.
We'd definitely recommend the VR journey through eight of Van Gogh's works, which transports you from Van Gogh's bedroom in Arles, through the fields, and down to the starry riverside. VIP ticketholders will have this included in the price of admission, but if you booked a standard ticket, you can pay to join the VR experience on site.
For the piece de resistance at this Van Gogh exhibition, you'll enter a cathedral of light, colour, and sound, as the 360-degree projections illuminate Van Gogh's masterpieces across this historic venue. We'd highly encourage you to take a seat in the reclining chairs scattered around the room, and just drink in the full display. It's easy to lose plenty of time here, mesmerised by the ever-changing scenes unfolding before you – we certainly did!
So what are you waiting for? Check out this incredible experience at 106 Commercial Street. Van Gogh: The Immersive Experience is scheduled to last until October, so there's no time like the present to get booking.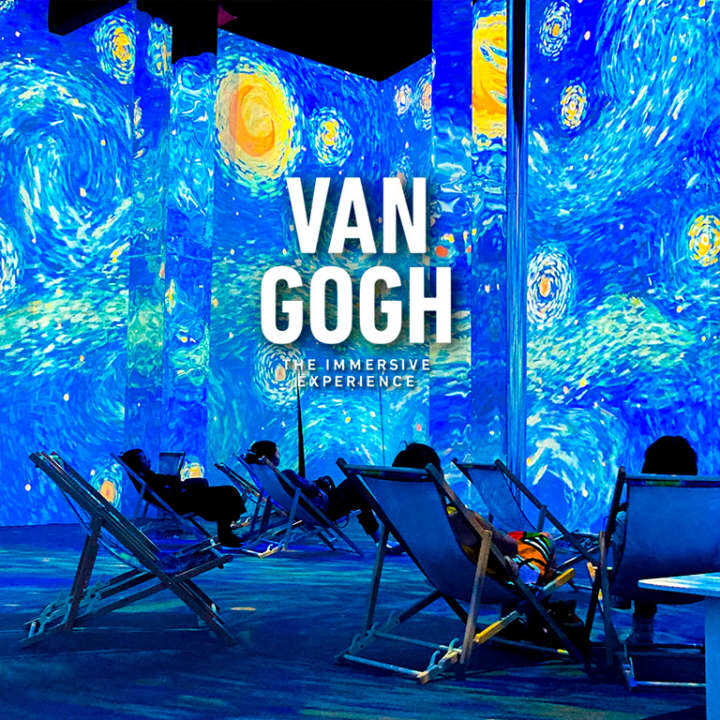 Van Gogh: The Immersive Experience
---