A long time ago, in a country quite far away, George Lucas came up with a sci-fi franchise that would become one of the most influential films in cinematic history. Now, devoted fans of the space epic are celebrating all things Star Wars with The Fans Strike Back: A Star Wars Fan Exhibition, which will take over 81 Old Brompton Road in South Kensington this April. With hundreds of famous costumes, photos, sculptures and life-sized figurines, all collected and displayed by fans, you'll be completely immersed in the intergalactic world of the popular film franchise. Channel your inner Jedi in a green screen lightsaber battle, step through the screen at the unique VR experience and meet the uncanny replicas of familiar characters.
If you have fond memories of the first time you feasted your eyes on Hans Solo's beloved hunk of junk the Millenium Falcon, felt your eyes light up at every sparking hit of Obi-Wan and Anakin's duelling lightsabers (we've passed the expiry date on spoiler alerts right?) or will never forget that shudder that ran down your spine when Darth Vader strode into the room, then this exhibition will be a dream come true. You'll not only get to explore part of the largest private Star Wars collection of fan items but you'll be able to relive all your favourite scenes with fascinating features that bring the Star Wars universe to life around you.
What can you expect at The Fans Strike Back: A Star Wars Fan Exhibition?
The Fans Strike Back: A Star Wars Fan Exhibition is a 60-minute experience that has already taken Atlanta and New York by storm. It is now heading across the pond to London, where you'll no doubt feel the force pulling you into this Star Wars sanctum to indulge your love of George Lucas' creations with like-minded visitors. The fact this was created by fellow fans means that passion fuels every element; with all replicas, posters, photos and one-of-a-kind sculptures carefully curated and presented.
One moment you could find yourself enamoured by the minute details of intricate figurines and lego-constructed creations, the next you'll lock eyes with a replica of an otherworldly creature that feels like it has been plucked straight from the film. For an extra cost, you can even treat yourself to the VR Experience where you'll be transported to a galaxy far, far away without even moving an inch.
This Star Wars fan exhibition is fun for all the family, inviting you to enjoy all the childhood nostalgia that the extensive collection of Star Wars items incites and bond with your kids along the way. Though you could always go (Han) solo and explore the delights of the exhibition entirely at your leisure, or even grab tickets for that friend who breaks out their Wookie costume every Halloween without fail. Whatever the case, make sure to sign up for the waitlist now so you can be among the first to snap up tickets.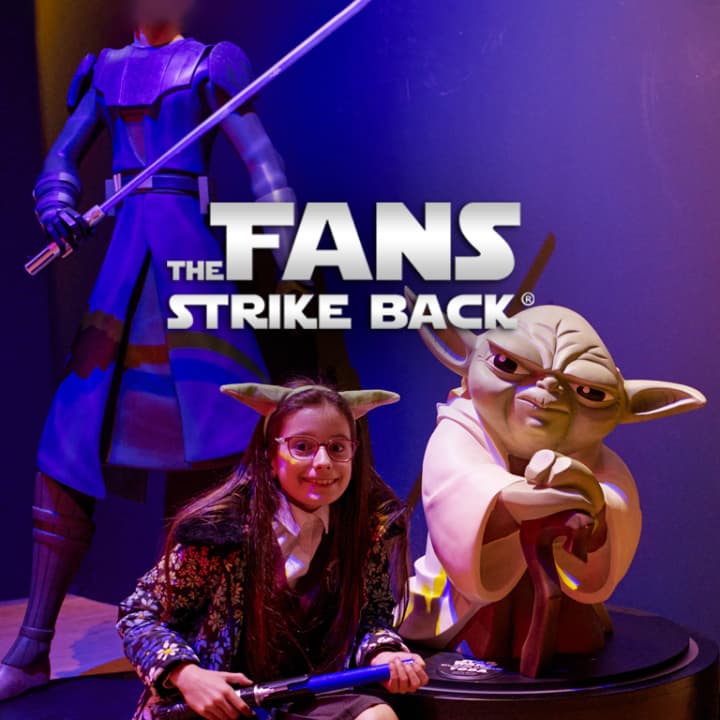 The Fans Strike Back®: A Star Wars Fan Exhibition
---