Here at Secret London, we adore Dopamine Land. Hey, it's a museum purely dedicated to making visitors happy; what's not to love? If you've somehow not visited yet, what have you been doing?! Don't worry though, we have the lowdown below, detailing exactly why you should visit Dopamine Land, and a little of what to expect.
1. The dopamine-inducing rooms
The whole selling point of Dopamine Land is to make you happy, and a lot of thought has gone into the layout of the experience. The creative and production teams specifically designed the museum with decompression spaces and stimulant rooms, so your body can prepare for the spikes of dopamine you'll experience as you work your way through the building.
Of course, what excites or makes people happy differs from person to person; the team have implemented an array of stimuli that activates each of your five senses, so visitors can discover exactly what triggers their individual happy hormones.
2. The fantastic photo ops
At this point, Dopamine Land's infinity room is pretty recognisable, and while it is very Instagrammable, there are many more photo ops where that room came from. Capture the high energy moments in the ball pit, or snap a pic of the Bubble Bar's pretty Rum Bubble Popping Punch, before the smoke-filled bubble disappears… You'll be able to flood your feed with some excellent shots.
3. The drinks menu
Leading on from our last point quite nicely, between all the exciting rooms, something that definitely brings a smile to my face is a bar with a darn good drinks menu. At Dopamine Land's Bubble Bar, you can sip on the aforementioned Rum Bubble Popping Punch, plus a magical G+T that changes colour, and a Pina Colada Fusion bubble tea to name but a few. Classic mimosas and Aperol Spritzes are also available, and of course, there are non-alcoholic options like juice, and soft drinks.
The drink menu really champions bubble teas too – it's called the Bubble Bar, after all. There are a range of flavours to try, and you can choose to add a shot of your preferred spirit if you so wish. Oh, and don't forget the fun bar snacks!
4. It's totally nostalgic
Escape adulthood and all its bills/cost of living crises/strikes for an hour or so, and embrace the rooms inspired by childhood imagination. The 'floor is lava' room, a shadow puppets game, and the pillow fight room will have you squealing in delight. There's something truly lovely about the child-like simplicity of these rooms, activating proper nostalgia and just making visitors smile.
5. Dopamine Land is fun for all the family
No matter who you visit with, your guaranteed a good time at Dopamine Land. Suitable for children and adults alike, the South Kensington spot welcomes groups of family and friends. Opt for day time sessions with younger members of your family, or instead gather your whole crew of mates for an evening of drinks and laughter – it's totally up to you.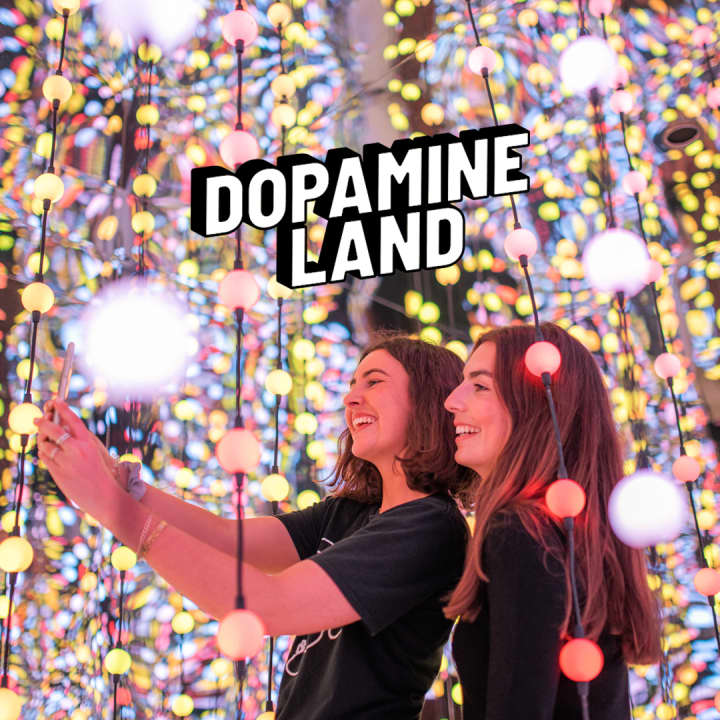 Dopamine Land: A Multisensory Experience
---