See our full outdoor cinema in London guide. Even if it's raining outside, us Brits are pretty resilient. We sit on cold beaches in Skegness in late August, newspaper flapping in the wind, shivering until our lips go blue. Because it's summer, and even if it's raining, we'll do anything to avoid doing the things that we do pretty much all-year round anyway. Like going to the cinema. In the summer months, sticky floors and dark rooms just don't cut it. That's why we've lined up 5 of the best alternative cinema experiences happening in London over the next few weeks. And they're guaranteed to amaze – whatever the weather.
1. The Luna Cinema (various locations)
The Luna Cinema roams around the country, looking for the best outdoor locations for you, your picnic and a really top quality flick. This summer, highlights include 'Mamma Mia!' at Kew Gardens, 'Birdman' at Battersea Park, cult classic 'The Princess Bride' at Dulwich Park, 'Top Gun' at Hampton Court and 'Jaws' at none other than the Brockwell Lido. At all these magical settings there will also be a pop-up bar on hand and hot food brought to you by Gastrocircus, so get down early to be first in line for the BBQ. Tickets can be purchased through the Fever app, if you download it here. For more information and a full schedule of screenings visit their website.
Until 27th September
2. Secret Cinema presents Star Wars: The Empire Strikes Back
Where do we even begin? How to put this fully immersive, participatory, Technicolour live cinematic experience into words? In brief, you're not you, you're a member of the Rebel Alliance – you didn't just come to watch, you came to participate – and you definitely won't feel like you again until you're safely back home in bed. Your mobile phone is sealed in a silver bag. And you are smuggled aboard a cargo transporter to a galaxy far, far away. What follows can only be described as a visual orgy of theatrical delights; a set designer's dream commission; the subconscious set free: as if the contents of a child's boundless imagination has been emptied out into an unassuming warehouse in a secret location in London.
With 180 different artists dressed in bespoke costumes to interact with, as well as drinks, tasty food and live music, there's no way you can't get involved. And people really do – from the die-hard obsessives dressed in head-to-toe rebel attire to my personal favourites spotted on the night that I attended: a trendy minimalist Japanese couple, who upon being commanded to hide their faces from the enemy, wrapped their yellow A.P.C raincoats around their heads with a sense of fear so real anyone would have thought they'd just been told Roberto Cavalli had been let loose in their wardrobes with a glitter gun. Basically, if you're a Star Wars superfan, you're probably going to have the best night of your life. And if you're not, it will be the second best. And that's about as much of the secret that I can give away. So you're just going to have to trust me on this one. It's a tired cliché – but you've kind of got to see it to believe it.
Until 27th September
3. Rooftop Film Club (various locations)
All the The Rooftop Film Club venues are pretty stunning. The Peckham location, sitting high atop the Bussey Building, is probably our favourite though. With stunning views of London adding to the cinematic experience (and even a snazzy pair of wireless headphones to drown out any sound from the railway), this is the ultimate rooftop summer experience. They've got some great films lined up, including cult hits like 'Ferris Bueller's Day Off' and 'Clueless', as well as more niche options (read here: subtitled) like 'Cinema Paradiso'. It's a must-do, must-see, must-go, must-everything.
Until 30th September
4. We Press Play (various locations)
The guys at We Press Play have taken over the secret rooftop of Broadway House and 37 Degrees Kensington to bring you all the best modern classics, from '40 Year Old Virgin' to 'Mean Girls' and 'Golden Eye' to none other than 'The Notebook'. Take your man to see the McAdams/Gosling love story and you, my friend, have officially Notebook-ed him. Don't get the reference? See here. Tickets are a little cheaper than some of the other options and and can be purchased through downloading the Fever app.
Until 27th September.
5. The Floating Cinema (various locations)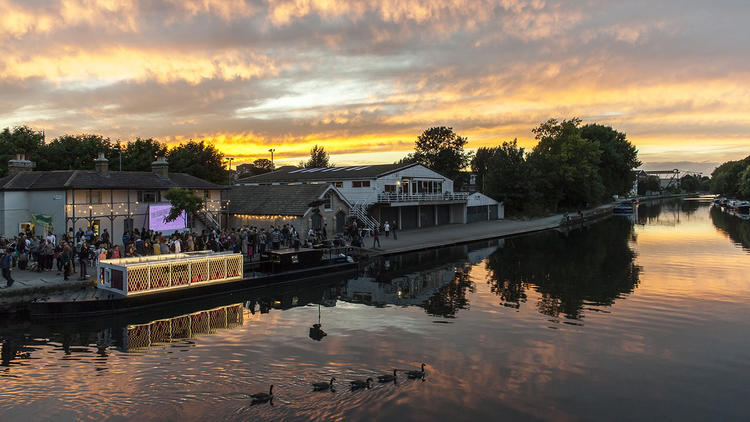 Thought you'd seen it all? Think again. From this Friday the glorious 60ft-long Floating Cinema barge will be meandering its way down the London canals, displaying an exciting multi-media array of events and film screenings. The theme this year is Extra-Terrestrial so expect lots of sci-fi cult classics, family-friendly workshops and on-board talks from scientists and writers. For more information and a full programme of events visit their website.
Until 20 September.
---