Embark on a multisensory journey into Monet's iconic works of art. In late September you'll discover a wonderland of digital wizardry behind the doors of Boiler House thanks to Claude Monet: The Immersive Experience. Walls will be illuminated with giant 360-degree projections of the French artist's mesmerising masterpieces, ambient sounds will recreate the tranquillity of the natural scenes he loved to paint and a cutting-edge virtual reality experience will give you the chance to climb through the frame into his painted universe. There's even the chance to make your own artwork if you feel inspired.
What makes the Claude Monet: The Immersive Experience special?
Exhibition Hub has added a hefty dash of technological magic to the 19th-century art of Monet. This is not your average art exhibition, here the pictures on the walls have been brought to life through giant projections, wrapping you in a cocoon of colour and motion. One minute you'll find yourself following in Monet's footsteps as you wander over his iconic footbridge – twisted with blooming cascades of flowers – and gaze out across a digital pond complete with swimming fish and rippling waters. Next, you will simply be able to sit back and watch as the industrial walls of Boiler House become rolling poppy fields and crescent-shaped beaches.
Those who like a dose of knowledge with their art admiring will be pleased to know there are plenty of informative panels available to shed some light on the artwork. Plus, for an extra cost, you can slip on a VR headset to explore a selection of his most renowned pieces from a unique perspective: inside the painting. As you stroll through his impressionist depictions of the French countryside and parasol-wielding figures, you'll learn all about the inspiration behind each of them.
Kids are of course welcome at Claude Monet: The Immersive Experience. As well as giving them a new insight into the world of art, the exhibition's epic visuals and interactive activities will keep them engaged from start to finish. Then, once they've added a splash of colour to their own masterpiece and seen it projected on the walls like a real artist, you can always swing by the gift shop for a Monet memento. Grab your tickets today to experience Monet's historic art like never before.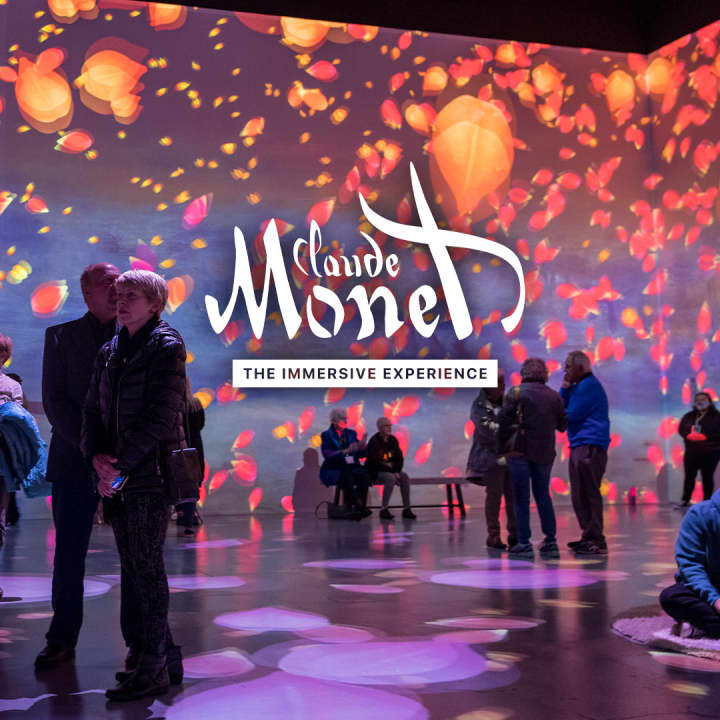 Monet: The Immersive Experience
---