Fancy a bit of artsy escapism? Claude Monet: The Immersive Experience promises just that. Located at Boiler House on Brick Lane – just a short walk from Liverpool Street station – the exhibition uses technological wizardry to breathe new life into the iconic paintings Monet produced throughout his career. Over the course of an hour, you can expect stunning 360-degree projections, enchanting immersive rooms that will have you digging out your phone for a photo and even a spot of therapeutic colouring-in. We visited Claude Monet: The Immersive Experience in London this week, here's my review…
Setting the scene
You'll find Claude Monet: The Immersive Experience on Brick Lane. Scoring a line between Whitechapel and Shoreditch, the area once known as a favoured spot of, shudder, Jack The Ripper, is now a popular haunt where art and culture thrive. So, it only makes sense that this exhibition found a home here. I swung by on a late morning, dodging past the last commuter stragglers to enter the 19th-century warehouse-turned-events-venue Boiler House, and instantly laid eyes on the giant portrait of Monet staring back at me from the end of a hallway.
The experience begins with quite a few panels of writing, but don't let it sway you, it's there to set the scene – flooding you with a bit of knowledge and background before the visual-based bulk of the exhibition. Once you learn about how framing, colour theory, movement and optics play a part in how you perceive the painting, it'll be time to push through the curtain. This is where your immersion into Monet's painted world begins.
It's to be expected that Monet's idyllic Garden at Giverny gets a special focus. It was one of his favourite places to paint, after all. Bathed in luminous green light and twisted with cascades of flowers and wild vines, the iconic Japanese footbridge that arches over his water lily pond has been recreated so you can put yourself in the shoes of Monet and wander through his garden.
While the flowers are (of course) fake and the rippling pond digital, the setting still manages to capture some of the tranquillity of what it might have been like in that French garden – there was a moment where I was tempted to swish my finger in the pond's waters as fish swam under the surface. With its vibrant lighting and abundance of flowers climbing the walls and spilling from every nook and cranny, it almost feels like a psychedelic bit of paradise. I won't be surprised if I see a few flower-filled selfies popping up on Instagram.
Before you even set foot into the next room you'll get a peek of what's to come through an ivy-woven window frame in the wall. Like looking into his home, you'll get a glimpse of 19th-century furnishings and walls decked out with countless Monet paintings – he liked keeping a canvas of each stage of his career and they have cleverly utilised this aspect as a way of presenting his art.
There's not much in the way of interactive or informative elements here but it's a good chance to see how his style changed over the years. One thing that is a clear constant is his fondness for nature and family. Whether it's sailboats on sun-soaked waters, towering sunflowers that bow over the head of a little boy or parasol-wielding ladies sitting back on golden sands, it's clearly the great outdoors that is his muse. A fact that is soon cemented when you enter the projection room.
The Projection Room
Okay, so projection room isn't the official name but it basically sums up what you can expect. This is the moment you truly see Monet's masterpieces come to life. Leave reality at the door, plonk yourself down in one of the numerous deck chairs and just sit back and watch. The room is illuminated with two-storey, 360-degree projections that to us felt like a form of art therapy, with ambient sounds, smooth transitions and softly painted landscapes unfolding before you. You almost want to close your eyes as it washes over you, but then you'd miss out on the spectacle blossoming on the walls.
Time is spent on each of his iconic pieces, and, thanks to his love of nature the painted scenery is fittingly Arcadian. You can expect the sweeping poppy fields to appear in a flurry of red petals, deep blue underwater scenes materialising from a froth of bubbles and butterflies fluttering over flower beds outside Monet's house. Every last detail has been considered and encourages you to keep looking around the room – keep an eye out for the rat scurrying across a bustling station platform and an ear out for the immersive sounds of birdsong, squawking seagulls and rattling trains.
It's not just nature that has been set into motion, his painted people have too. You'll feel like you're in the halls of Hogwarts as the portraits come alive, with a ponderous-looking woman leaning back as her husband plays with her hair and a little boy playing in the sand on a busy beach. Much like the famous school of witchcraft and wizardry, it's all quite magical.
We stayed for a full circuit, which took about 20 minutes but didn't feel like it. One of my favourite aspects was that the floors aren't forgotten either. Train tracks, footbridges and cobblestone streets dotted with daisies all appear to glide under your feet. At times it felt like the world was on a roundabout while you sit in the centre, unmoving and, if you're like me, a tad hypnotised. Just a tip – maybe don't take any psychedelics before you go.
It's a mesmerising experience, watching an impressionist universe unfurl around you, and these projections take you to every corner of Monet's illustrious career. Including in later years when his eyesight began to suffer and, due to his vibrant, purple-drenched paintings, people began to question 'Could Claude Monet see like a bee?' aka see ultraviolet light? Yes, seems to be the answer. If you're like me, that riddle-sounding question that pops up on the screens will send you down a Google rabbit hole.
The Interactive Elements
Once you emerge from the soothing bubble of the projection room you then get the chance to apply all you've soaked up so far with a bit of colouring in. Now, it's been a long time since I've held a crayon, but something about adding a splash of colour to Monet's pieces was strangely relaxing. It's likely going to be much more popular with the kids, but who says the parents can't unwind and unleash a bit of creativity too?
If it's the technology side of things you're more interested in you might want to pay the extra £5 for the VR experience. I won't say too much as I don't want to give any spoilers, but let's just say this is immersion dialled all the way up. Behind a red door lies Monet's universe, built on brushstrokes and vibrant colour, and you get to explore the world that exists outside the four sides of the canvas, gliding through fields and rushing down to crashing waves. It's a gentle rollercoaster ride without the heart-in-your-mouth moments basically. It's just 10 minutes and you get to just chill out and let technology take the lead.
You can even grab a memento from the very well-stocked gift shop. They've not missed a trick there, with everything from Monet AirPod cases and jigsaws to your own water-lily-print parasol where you can channel his iconic windswept woman on the hillside.
In Conclusion
All in all, Claude Monet: The Immersive Experience was a fascinating new way to take in Monet's iconic works. Those who are already fans can enjoy them from a new perspective, while those who are curious but maybe a bit more unfamiliar with his pieces can experience them up close in a unique and memorable way. If you're a captions-and-audio-guides kind of person you might find yourself adrift at times, but the visuals often speak for themselves. Besides, it's a great excuse to escape the frenzy of the city for the afternoon. Don't just take my word for it though, you can grab tickets now to find out for yourself.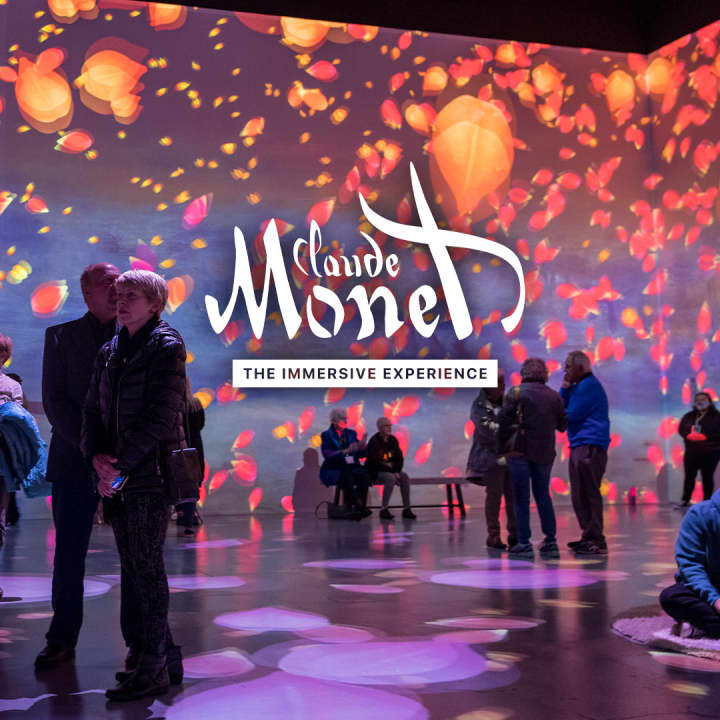 Monet: The Immersive Experience
---