Get ready to travel back to the pastoral paradise of 19th-century France via the impressionist brushstrokes of Claude Monet. The immersive exhibition is now open at The Boiler House, welcoming those of you who fancy a multisensory journey into a wondrous world of art. One where 360-degree projections, unique storytelling, atmospheric sound effects and a spellbinding VR experience will bring the historic works of Monet to life – and one where you can create your own masterpiece and see it projected on the walls in all its colourful glory.
Whether you are an art aficionado, have a penchant for paintings, or simply want to be transported, Claude Monet: The Immersive Experience is sure to make for a memorable day out. The fusion of cutting-edge technology and centuries-old art allows you to witness Monet's pieces in a whole new, digital light. The exhibition has injected his natural palette of colour and broad brushstrokes with movement – you'll see shimmering goldfish winding through the waters of his famous lily pond, watch his crimson poppies sway in the breeze and stretch out your hand as a flurry of petals tumbles down.
Of course, if that's not enough for you there's also a VR experience – slip on the headset and discover the inspiration behind a number of his iconic works, including Haystack at the end of Summer and Poppies. As well as the stunning visuals provided by two-storey projections and virtual reality, you'll be able to put yourself in the shoes of the founder of impressionist painting himself as you stroll over an uncanny flower-draped footbridge and gaze down at the rippling waters of his idyllic pond. Plus, through immersive sets recreated to look like 19th-century interiors, you'll learn all about the French painter and his inspirations.
What better way to celebrate the masterpieces of Monet than to experience them from a new modern perspective? Claude Monet: The Immersive Experience is fun, fascinating and informative, making it an ideal trip for all the family. And, once you've soaked up all the iconic artistry, you and the kids can grab a crayon and add a splash of colour to your own work of art. You'll even get to see it join other visitors' creations when it is projected on the wall, resulting in another mini Monet-inspired digital gallery inside the larger exhibition.
Whether you want to learn more about Monet or witness technological wizardry bring his art to life, this exhibition is sure to tick all the boxes for a magical and memorable experience, grab your tickets today.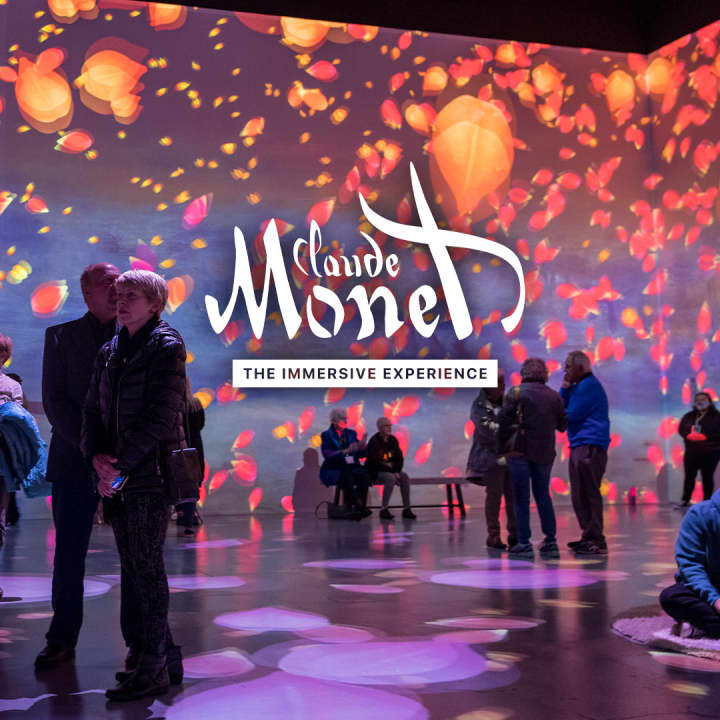 Monet: The Immersive Experience
---