While we love to shout about the big events and venues in the capital, our favourites are the little hidden spots – we're called Secret London, after all. So, as the EFG London Jazz Festival fills our city with the sensational sounds of jazz instruments and singers, we want to bring the Marylebone Hidden Jazz Club to your attention.
This venture, located in the atmospheric Marylebone Theatre, will host a two-hour show this Saturday night (November 18), filled with an impressive programme of saxophonists, trumpet players, and vocalists. Grab your tickets to the Marylebone Hidden Jazz Club show pronto.
What is the Marylebone Hidden Jazz Club?
A collaboration between Hidden Jazz Club and Marylebone Theatre, Marylebone Hidden Jazz Club is the ideal spot for those who fancy a laid-back evening of jazz music. Hidden Jazz Club has been running pop-ups around the capital for the last five years, and their mission is to make shows that are accessible for complete newcomers and jazz aficionados alike.
The shows are completely artist-run, fun, and relaxed. In this space, guests are encouraged to mingle with the artists between sets.
What can you expect from this weekend's show?
World-class artists will take to the stage this weekend, a mixture of local talent and international stars. The current schedule for this Saturday's show is as follows:
Jay Phelps – Trumpet
Michele Montolli – Double bass
Zoe Pascal – Drums
Theo Jackson – Piano and vocals
Jo Caleb – Guitar
Elisa Caleb – Vocals
Other musicians may also perform, but you'll need to be there to find out just who they are.
EFG London Jazz Festival
This week marks the EFG London Jazz Festival, a 10-day festival that celebrates jazz by spreading it all through the city for everyone to enjoy. By the time the festival concludes on November 19, London will have seen over 400 shows and events, at almost 100 venues, with more than 2000 performers.
The EFG London Jazz Festival sees global legends stand side by side with young emerging talent. Performers from around the world will be in attendance. You can find out more about the EFG London Jazz Festival here.
If you can't make this weekend's event, don't worry. The Marylebone Hidden Jazz Club will be hosting another sensational show next month – grab tickets for the December 19 show here, and treat yourself this Christmas.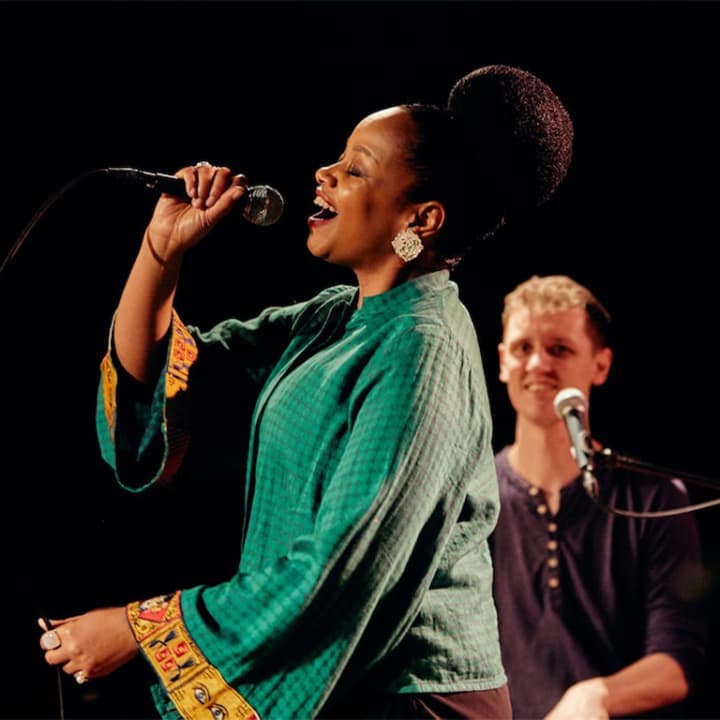 Marylebone Hidden Jazz Club
---