Dinosaurs have broken free of the big screen at Jurassic World: The Exhibition and, unsurprisingly, that's not something that happens every day so we ventured over to ExCel London to witness them with our own two eyes. This otherworldly opportunity to visit a land before time is something that should be on every fan's to-do list, whatever the age. Those of us who grew up with that iconic theme running through our heads can expect a nostalgic trip down a cinematic memory lane while wide-eyed kids clutching dinosaur figurines will embark on an awe-inspiring journey into a prehistoric world. Thanks to a fusion of incredible animatronics, striking set design, atmospheric special effects and a dose of baby-faced cuteness, Jurassic World has been brought to life for our pleasure.
Here's what you should know before going to London's Jurassic World exhibition…
Like every journey to a remote island inhabited by reanimated prehistoric creatures should, your Jurassic World adventure begins in a 'boat', where you'll be given the lowdown on the in-world park via a voiceover. Then the real fun begins, as you clap your eyes on the famous gates, open and ready to welcome you inside. For many, this moment is likely to spark a sense of childhood joy as you flashback to the day you first joined Alan Grant and co. as they entered the unknown. New memories will be created here as the brachiosaurus comes into view, providing your first look at the animatronics on display and setting the scene for an unforgettable experience. Just prepare for a neck ache as you gaze up at his swaying head.
Once you get inside you'll be immersed in a prehistoric wilderness, with ferns sprouting from corners like leafy claws and the rumbling roars of creatures echoing throughout the cavernous space. Don't worry you're not thrown straight into the rippling deep end, so you can holster that flare gun for the time being, instead, you might just meet a few of the bright-eyed residents as this area provides your first chance to interact with a baby dinosaur. There are plenty more chances to fawn over the little uns' to come though, so the cuteness doesn't start and end here. So long as you have your phone fully-charged and ready to snap some shots of your kids in their dino-loving element you're all good.
Among the enclosures and handlers decked out in safari-beige you'll find Hammonds Creation Lab, a slice of polished white sequestered among the plant life. Always been fascinated by the how and why of it all? You'll be able to truly indulge your curiosity here. There are walls of dinosaur eggs and fossils to explore, plus the chance to see tiny baby dinosaurs in the incubator, sift through dinosaur poop (in the name of science, of course, nothing weird), and even meet another young dino.
The best of London's Jurassic World exhibition is hard to summarise without becoming a spoilsport but you can expect plenty of truck-shaking, teeth-gnashing and cage-rattling. One moment the hard-headed Stygimoloch Stiggy will be popping up to say hello – you can breathe easy, she's friendly – the next you'll be faced with the slightly more deadly raptors at their enclosure. These clever girls are locked up but if you want to see them in action there is a training session. Speaking of deadly, be on guard when you happen upon a leafy enclosure and a big hook loaded with meat, as anyone who's watched the films knows only trouble follows. This time, trouble comes in the form of the ghost-like Indominus Rex, in all its steely-eyed, crocodilian-teethed glory, this was a particular highlight as the built-up tension and expectation pays off.
Of course, if you've brought along the little ones you might be after less pointy teeth and more light-hearted fun. Well, your prayers are answered with a kid-friendly breather where they can channel their inner palaeontologist sifting through sand to discover fossils, and soak up the sweetness of even more baby dinos – keep an eye out for little Bumpy, the Ankylosaurus from Camp Cretaceous. Once you've done your job as a personal photographer for your kids, there's a chance for you to step in front of the lens with multiple photo ops; try to resist clambering in the roving observation orbs for a pic to juice up your Instagram.
There is no Jurassic World without the queen of the kingdom herself, and you can bet the infamous T-Rex will make her stomping appearance in truly epic fashion before the end of the exhibition. I don't want to give too much away but let's just say a winning combination of special effects, acting from the park rangers and the amazing animatronics fuels a grand finale filled with jump scares and cinematic drama. Then, once you've survived the climactic experience, you can escape to grab a memento from the gift shop, which is packed with an avalanche of merch that is sure to be enough to satisfy any needs. Now, you've read our Jurassic World: The Exhibition review, the only thing left is to get your tickets.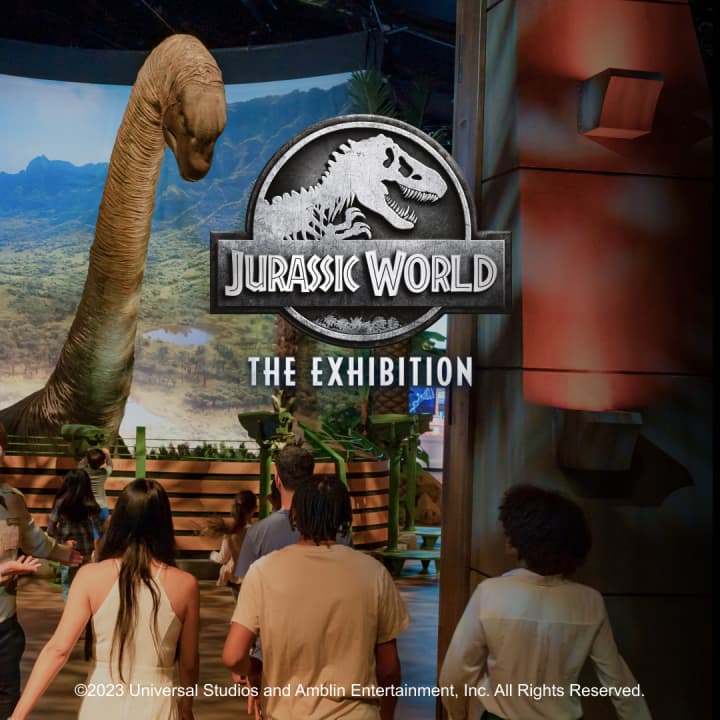 Jurassic World: The Exhibition
27 May, 2023 4:00 PM
From CA$28.99
---