Seriously, even my vegetarian friends dabble in it from time to time. Because nothing beats the smell of some good old streaky stuff getting all crispy and crackly in a frying pan. We've lined up 7 of the best ways to get your bacon fix: that's one for each day of the week (ya greedy pigs).
1. Bacon Naan Roll @ Dishoom
Becoming something of a rite of passage for bacon believers, this Bombay take on the classic bacon sarnie uses streaky bacon from rare breed specialists the Ginger Pig, as well as tomato-chilli jam, cream cheese and fresh coriander, all sandwiched between a tasty naan bread. Fusion cooking at its finest.
Multiple locations (Shoreditch, Covent Garden)
2. English Breakfast Udon Noodles @ Koya Bar
Yep, your eyes don't deceive you, that is bacon and fried egg with udon noodles. Restorative, warming and just a little bit greasy: it's said to be the best hangover cure around. Japanese brunch is officially our new favourite thing.
50 Frith St
W1D 4SG
3. Candied Bacon Cocktail @ JW Steakhouse
This killer cocktail mixes JB Single Barrel bacon-infused bourbon, plum liqueur, bitters, pomegranate and lemon. Garnished with a rasher of crispy bacon, it's potentially a bit of an artery clogging affair. But it tastes pretty unique.
86 Park Lane
W1K 7TL
4. Bacon Butty @ Le Swine
Now THAT, is a bacon sarnie. Street food market traders Le Swine have taken an old British classic to a whole new realm, using the finest free-range pigs, bacon butter, mushroom ketchup and a fried duck egg all sandwiched together in a soft milk and onion bap. Quite honestly? You won't find a better one in London.
They're a food truck – they roam around. See their website for details.
5. Pancakes and Bacon @ The Breakfast Club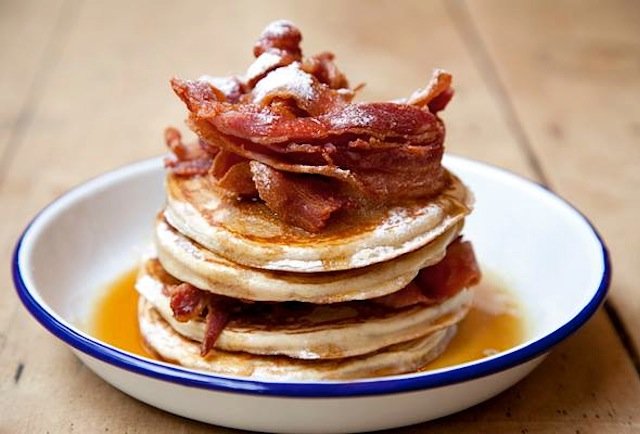 These guys have got a whole menu devoted to pancakes, which is pretty cool in itself. And if there's one place you're going to eat the American classic in London (complete with crispy bacon and maple syrup) it should definitely be The Breakfast Club. They don't hold back – and neither should you.
Multiple locations.
6. Full English Bunny @ Bunnychow
Do you know what a South African bunny is? We didn't either. But now we've tried them, there's no stopping us. A freshly baked bun is hollowed out, crammed with delicious hot fillings and then topped with a bread 'lid'. For a fusion breakfast, try the Full English Breakfast with crispy bacon, sausage, salsa bean, fried egg and black pudding. It soaks up all the juices in the way that a measly slice of Hovis just can't quite handle.
74 Wardour Street
W1F 0TE
7. Elvis Presley Ice Cream Sandwich (with bacon) @ Foxlow
Already featured as one of our 25 things to eat before you die, this is arguably the mother of all ice cream sandwiches. Why? Allow us to list the ingredients: soft serve ice cream, peanut butter, banana compote sandwiched together between fried brioche and topped with maple syrup and BACON. Wipe that drool from your face, young man.
69-73 St Johns St
EC1M 4AN
---