The breathtaking Art Deco venue Freemasons' Hall will be filled with candlelight for an unforgettable treat.
Sometimes, you just can't beat the classics. Especially when it's the wondrous work of iconic composers such as Vivaldi, Beethoven and Mozart. This year, you'll find their spellbinding music will be floating from the stained glass windows of Covent Garden's Freemasons' Hall, as a series of captivating candlelight concerts will be taking place there on selected dates. Each one promises a night of music like no other, inviting you to unwind in a candlelit setting as the compelling melodies and symphonies wash over you.
Really, you couldn't pick a more suitable venue for Vivaldi, Bach, and friends, as the splendid Freemasons' Hall is a gilded Art Deco masterpiece and a feast for the eyes. It's made even more atmospheric by the addition of thousands of softly flickering candles, transforming the ornate hall into a surprisingly cosy spot to kick back and enjoy the concerts.
Over the course of this year you'll have a plenty of opportunities to experience magical classical compositions from composers throughout history who have blessed us with their musical talents. Mozart and Moonlight Sonata By Candlelight is one of the concerts that will be lighting up the stunning architecture of the Grand Temple, taking place on May 21, June 25 and July 23. You'll not only be able to listen to Beethoven's beautiful Moonlight Sonata – from the slow-rolling build of its first movement to the more wild, fast and tempestuous nature of its third movement – but you'll also get to enjoy other classical pieces such as Chopin's Three Nocturnes and Bach's Capriccio on the Departure of a Beloved Father. All of which are performed on a Steinway Grand Piano that once belonged to the great composer: Sergei Rachmaninov.
Another gorgeous concert unfolding in the hall is a joyous journey through Vivaldi's The Four Seasons, Bach's Air on the G String, and Pachelbel's Canon in D. Vivaldi's Four Seasons By Candlelight has multiple dates from February through to August. Whichever one you choose, you'll be treated to an unforgettable evening: admiring the marble walls and gilded detailing of the Grand Temple as the glow of flickering candlelight dances across their polished surfaces to create a truly magical atmosphere.
Candles, beautiful music, and one of London's most impressive venues – what better way to enjoy an unforgettable night?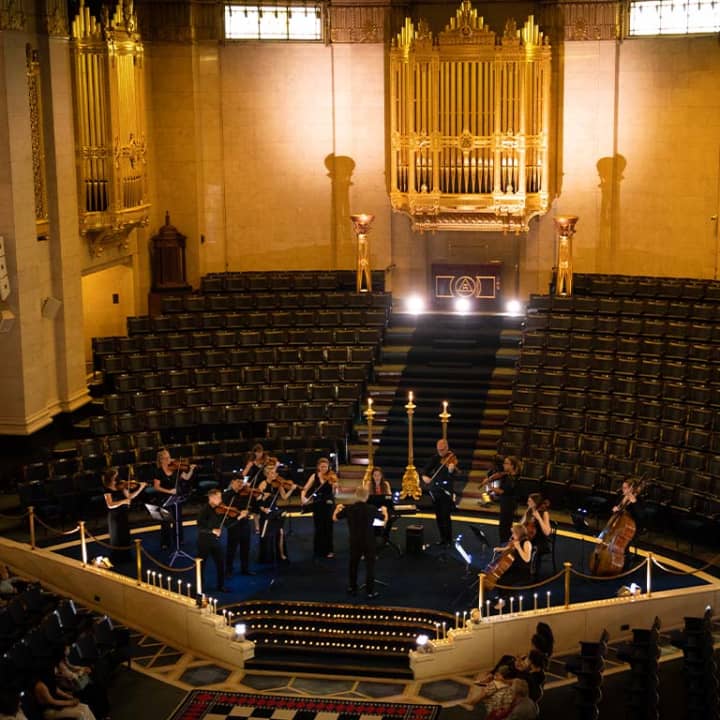 Vivaldi's Four Seasons by Candlelight at Freemason's Hall
16 December, 2023 5:00 PM
From £20.00
All our events are recommended by editors. Tickets purchased through Fever may earn Secret London commission.
---
Also published on Medium.
---