Thank the stars, The Fans Strike Back Exhibition is now open. Don your Jedi robes, gulp down your last dregs of Alderaanian ale and start calculating your jump into hyperspace; the exhibition is currently open, welcoming all beings into an intergalactic heaven created by the fans for the fans. You'll find it in South Kensington, where a mere step through the doors of 81 Old Brompton Road will plunge you among Star Wars memorabilia, costumes, replicas, sculptures, lego creations and much more. Even better, it has extended its dates in London due to popular demand, so everyone can get a chance to experience it for themselves.
Over the course of an hour, you can explore every corner, character and creature of George Lucas' galaxy. Whether it's the icy planet of Hoth, which springs to mind (and conjures up goosebumps) when marvelling at a fan-built 1:2 scale Snowspeeder; or feeling a different type of chills as you enter the cold, shudder-worthy star destroyer bridge, lined with ten different ship models. You'll also get to meet familiar favourites thanks to the amazing fan-made, life-size figures – see how you fare staring into the inky black void of Darth Vader's mask but be sure to pay Yoda a visit if you feel the dark side start to get its claws in you.
If you've been looking for a chance to wield a lightsaber and unleash some Obi-Wan-esque moves on camera you might want to swing by the green screen. There, you can pick from selected backgrounds and relive some of the best moments of the film, capturing some otherworldly photos to take home as a memento. Or, you could always take it to the next level and pay a bit extra for the Star Wars VR experience. There's no fictional sci-fi technology at play here, just a headset and some virtual reality magic that will give you the chance to step inside the cinematic universe that has birthed one of the biggest fanbases in the world.
The Fans Strike Back is the result of 40 years of passionate work, with one of the largest private Star Wars collections made by fans for fans. In a matter of days, it will be open in London, inviting people of all ages to enjoy the hundreds of unique collectables and figurines – as well as over 30 one-of-a-kind sculptures and an extensive range of armour, lightsabers blasters, helmets and more – that the films have inspired. Don't miss out on your chance to experience it for yourself, grab your tickets today and before you know it you'll be rubbing shoulders with like-minded fans and perusing the extensive R2-D2 collection.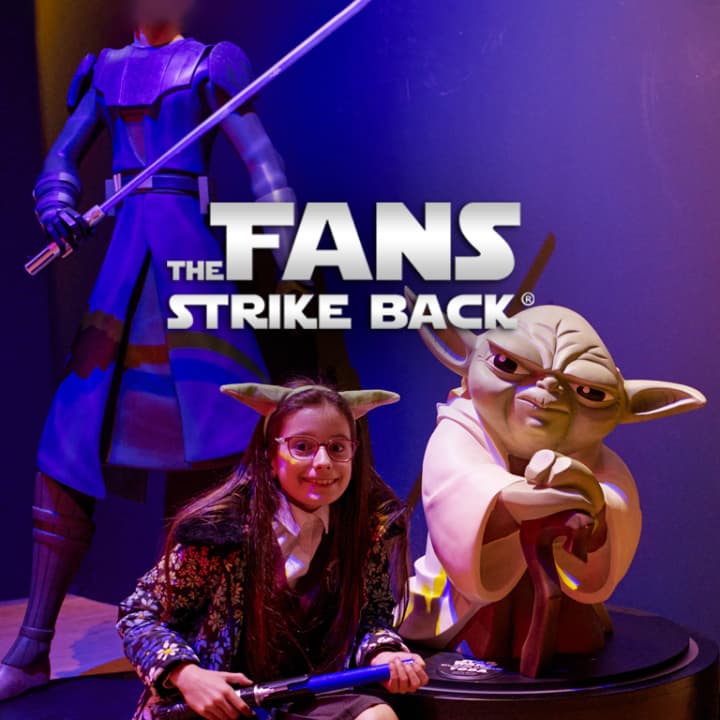 The Fans Strike Back®: A Star Wars Fan Exhibition
---