Imagine entering a world that has taken all your wildest childhood daydreams and brought them to life in one brilliant, happiness-inducing experience. Well, Dopamine Land has made that world a reality, and to prove it isn't just a figment of your imagination they have now announced exactly where you'll be able to find them this spring: at 79-85 Old Brompton Road in South Kensington.
Here, you'll find a day out to treasure; Dopamine Land is a multisensory experience that delivers a much-needed hit of happiness through a combination of innovative technology and colourful installations.
You can embark on a mesmerising journey through vibrant rooms that have you smiling from ear to ear. You'll feel especially sky high in the Bubble Room; equipped with a bubble gun so you can help fill the luminous space with some irresistibly poppable orbs, no doubt inspiring some childhood nostalgia.
Speaking of nostalgia, remember those days when pillow fights were a regular occurence? When a hurricane of feathers would fill the air and your heart would lurch with glee every time you made a successful dodge? You'll get the chance to unleash your inner child (and maybe get some long-awaited revenge on a swing-happy sibling) in the Pillow Fight room.
Clearly, this exciting immersive experience should be top of your list if you're looking to escape reality for a bit and reconnect with your emotions. Make sure you grab tickets now, circle the date in your calendar and prepare for 50 minutes of multisensory magic.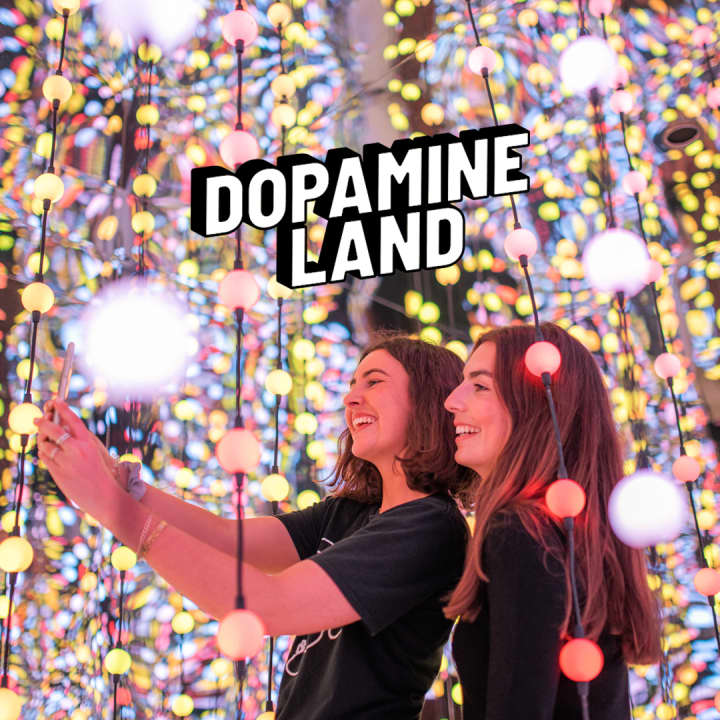 Dopamine Land: A Multisensory Experience
---