Exercise may be a great way to get a flood of dopamine – the feel-good hormone – rushing through your body, but we've got a less strenuous, arguably more fun, suggestion for you instead: Dopamine Land, now running in London. A brand-new, multi-sensory, immersive experience that's a little trippy, a lot of fun, it will flood your body with dopamine, without a drop of sweat in sight.
Open now at 79-85 Old Brompton Road, you'll find interactive rooms that combine traditional media and innovative technology to create something that's sure to put a smile on your face. And excitingly, a new set of dates have been released to cope with the overwhelming demand for dopamine!
One such room will be flooded with lights, visual effects and platforms you'll need to jump between (think: the 'ground is lava' game), while the ball pit room will encourage a massive hit of nostalgia for childhood ball parks. Other rooms are in stark contrast with one another: a high-octane pillow fight room where you can duel with a fluffy weapon in hand, a dazzling infinity room that's sure to be a  popular spot for selfies, and a soothing room that brings a digital forest to west London.
The immersive rooms will enable you to unleash your inner child, and really enter a world of happiness, as Dopamine Land's tagline professes. Unlike most of our childhoods where digital photos were a thing of the future, you'll be able to snap as many images as you like on your smartphone in the dedicated photo zones. Immortalise your memories and smile fondly as you look back on them long after you've left the exhibition; it'll be the gift that keeps on giving.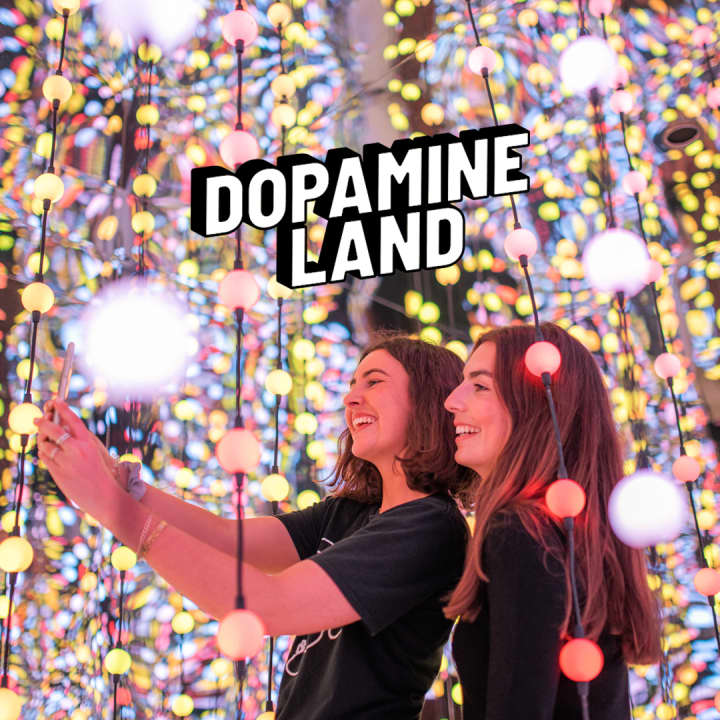 Dopamine Land: A Multisensory Experience
---