Dopamine Land, London's happiness-inducing immersive experience, has been keeping the capital smiling since early summer 2022, and now, due to popular demand, they've extended their stay in the city yet again until April 30. Dopamine Land will continue to radiate those feel-good vibes you've seen splashed across your socials, combining traditional media and innovative technology within enchanting interactive rooms.
Between February 14 to February 19, Dopamine Land will have extended opening hours, welcoming families – and everyone else – from 10.30am each day for the half term. What's more, on Valentine's Day (February 14), visitors can enjoy exclusive discounts at the Bubble bar: 10% off all bubble teas, or 30% off on the dark chocolate orange bubble tea specifically.
What can you expect at Dopamine Land?
The experience takes place on the Old Brompton Road in South Kensington, just around the corner from the Natural History Museum. Colourful installations, visual effects and moving projections all conspire to create a 'world of happiness' at Dopamine Land; the series of unique and enchanting rooms will include a pillow fight room, a digital forest, and a popcorn room – to name just three! You'll get to relive the joy of childhood imagination throughout your session, unbridled from the confines of realism. We checked it out ourselves, and we bloody loved it.
As you make your way through the experience, there will be dedicated photo zones, so you can immortalise your time at the multisensory museum – a gift that keeps on giving some might say, as you're sure to look back with a smile long after you've left the building. Although Dopamine Land only opened last year, it's been an immediate hit with visitors, and tickets sell fast to the event, so get yours soon! We can't be held responsible for any sad faces as a result of missing out…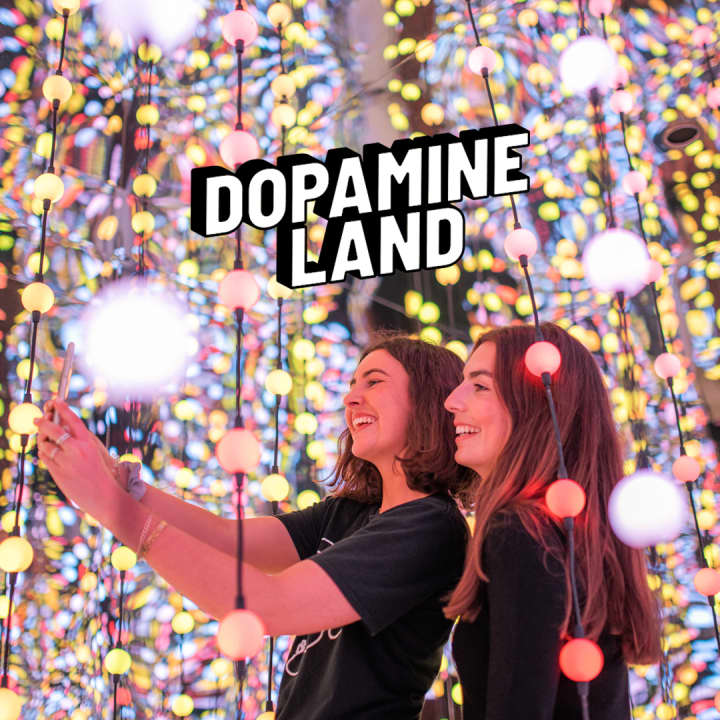 Dopamine Land: A Multisensory Experience
---