Let your inner child loose this winter at an international immersive world that has finally come to London. Following successful stints in North America, Milan and Brussels, Bubble Planet brings its bountiful interactive installation to Wembley from today (November 24). The installation is filled with – you guessed it – bubbles, created using a plethora of techniques. In this space, not only will you encounter regular bubbles, but the experience employs VR technology, interactive elements, and mirrored effects to create something incredibly innovative. Grab your tickets to be one of the first to experience Bubble Planet in London!
What can you expect on your visit to Bubble Planet?
Over the course of an hour, you'll saunter between 11 rooms themed around different types of bubbles, each more enchanting than the last. While we don't want to give away everything you'll experience, we can reveal there'll be a hot air balloon flight simulation room; a VR experience room, where you see the world from inside a bubble; and a room filled to the brim with oversized balloons.
Unlike traditional bubbles, the bubbles at Bubble Planet won't disappear once popped. Instead, the rooms enlist all five of your senses, as you float from room to room.
The venue hosting Bubble Planet was previously home to Bridgerton Secret Cinema and art exhibitions, which is rather fitting, given the intriguing nature of the experience. No longer will Wembley be known simply as the mecca of sports and gigs, but now creative exhibitions too. I, for one, am positively bursting with anticipation to check this one out in person!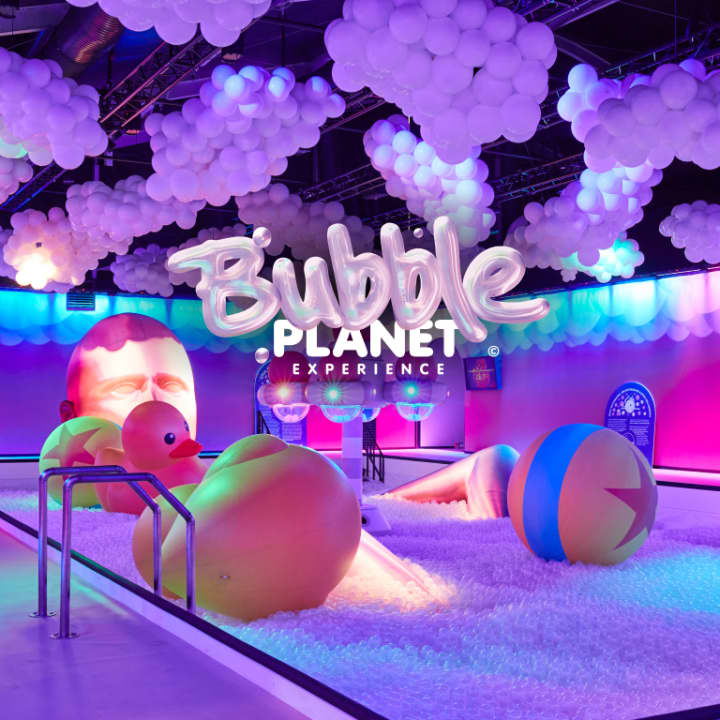 Bubble Planet: An Immersive Experience
---