While London's Alcotraz cocktail experience has received rave reviews over the years, I've still not been. Shame, I know. However, the team behind this stellar night out have recently launched a brand-new experience, and this time, I was one of the first through the door! At the Avora cocktail experience, patrons partake in a mission on the planet of Avora, seeking out an ingredient for those back on Earth. Along the way, there's cocktail drinking. I'm totally here for it. I checked out the Avora cocktail experience last week, and while we don't want to give everything away, here's my review…
The Secret London Avora cocktail experience review
From the moment we rocked up at Avora's London venue aka 'Roscorp Laboratories', the storyline started. As we were ushered in from the Hoxton streets, we received a debrief and a box to put our valuables in, before being taken to put on our bespoke Avora spacesuits. The debrief is conducted by an actor and, despite my awkwardness when engaging with actors (I'd be terrible on a set), the process is seamless. In each session, there are groups of roughly 25–30 people; enough that you feel you're on a night out, but not too many that it's chaotic.
In the labs themselves, we met some of the other characters: the scientist, and Jeff, the CEO of Roscorp Laboratories – albeit he's on a screen – and received our first cocktail. I absolutely loved the interactivity of the drink: instead of being presented with a fully made cocktail, we were given a beaker and a selection of elixirs in test tubes to mix ourselves. When mixed together, the drink bubbles and creates a mist, and drinking it, we got deliciously fruity notes. The scientist advises that the active ingredient is 'luminol', a substance that'll keep us safe on Avora. After we learned of our mission, into Avora we went…
Bringing 'the outdoors in' is interior design's style of the moment, and the Avora cocktail experience absolutely nails it. Flora adorns the walls and ceilings, a gushing waterfall is projected onto a screen, and sounds of nature fill the space. A bonafide Avorian greeted us as we entered, inviting the group to forage for an ingredient to add to our second cocktail. Again, we got to bring the flavours of this drink together ourselves, this time adding elements from a fountain in a wall to a magical bud we had discovered.
There are plenty of seats in this room land, and you can take the time to chat with your pals, and the Avorians, teaching them things like handshakes and how to tell a joke. At one point, a Roscorp army dude pops in; he seems like a walking red flag (but that could just be pre-judgement from years of dating in London); however, he gets on with the nice scientist, so we roll with it. The room gradually gets darker, and the set illuminates – which we only noticed when we went to take a photo as we were so engrossed in conversation.
An Instagrammer's paradise
We were next guided to another area in Avora – I don't really want to say why, as not to give it away – and this is where the all the *drama* happens. The room is beautiful; Instagram fiends, this is where it is at. A bioluminescent tree cascades down from the ceiling, showering the room in other-worldly purple lighting. It was so enchanting, and I overheard the rest of the group having the same awe-inspired reaction as me as they each entered.
We had front row seats for the aforementioned drama, and we sipped our third cocktail as we soaked it all in. This cocktail was my fave by far. The drink was sweet and fruity, and had little tapioca balls. As for the ice, it literally glowed. Much like the room really. Once cocktails had been drunk and the storyline concluded, we returned to the lab from the beginning of the session, and in a flash, we were back on Earth.
The Avora cocktail experience is a good evening out with colleagues, pals or for a date; I went to review it with friends and we had such a laugh. The venue is an easy four-minute walk from Hoxton overground station, and the whole experience lasts a little under two hours. There are undertones in the storyline about the climate crisis, but it's done in such a way that you don't realise until you've left. Grab your ticket to Avora here – and, thanks to their sustainability promise, a tree is planted for every ticket sold.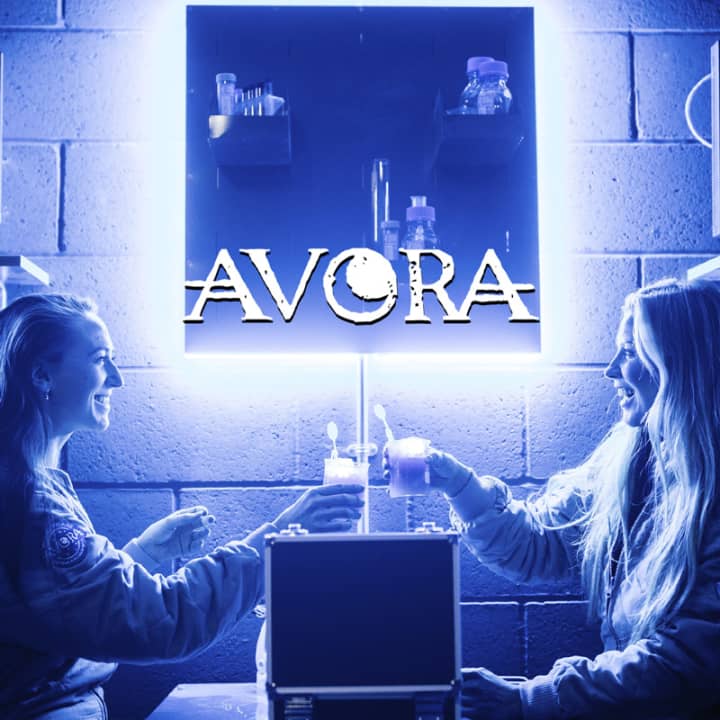 Avora: New World Cocktail Experience
---