Thirteen years after the multi-award-winning first instalment, Avatar 2 finally hits cinemas this month! On Friday, December 16, Avatar: The Way of The Water will take us back to Pandora, reuniting us with Jake (Sam Worthington), Neytiri (Zoe Saldaña) and the rest of the Na'vi, in another thrilling blockbuster. If that wasn't great enough news, we've got more: thanks to Fever, you can get an exclusive discount on any Avatar 2 ODEON tickets.
What is the premise of Avatar 2?
Set more than a decade after the events of the first film, Avatar: The Way of Water will revisit the Sully family, following their daily lives until they leave their home to explore other Pandora regions. However, when a threat emerges, Jake, Neytiri and co must go to battle once again.
Both the creation and the release of this film have seen multiple delays, so finally being able to say "I see you" to the second instalment has been a long time coming. The exclusive ODEON discount for Avatar 2 must be purchased on the Fever website or app, following which you'll be sent a code, which you can redeem online (a 95p booking fee applies) or at an ODEON ticket kiosk (no extra charges) for the date and seat of your choice. Off peak and anytime tickets are available, and the exclusive discount applies to 2D showings.
Escape to a Pandora-like world yourself at a new cocktail experience
If you can't get enough of Avatar, moments from Hoxton train station, a new immersive cocktail experience has opened, and it's almost like stepping into Pandora itself. At Avora: New World Cocktail Experience, an out-of-this-world adventure awaits: you'll rock up at 'Roscorp Laboratories', owned by a greedy CEO, and be briefed on a mission to another planet – foraging and glugging creative cocktails along the way, of course. While you won't be blue from head to toe, you will don a custom jumpsuit as you venture through the flora-filled world, and well, when you experience Avora's bioluminescence, it'll be like something out of a movie. Spoiler alert: the source of the 'luminos' is reminiscent of the Tree of Souls.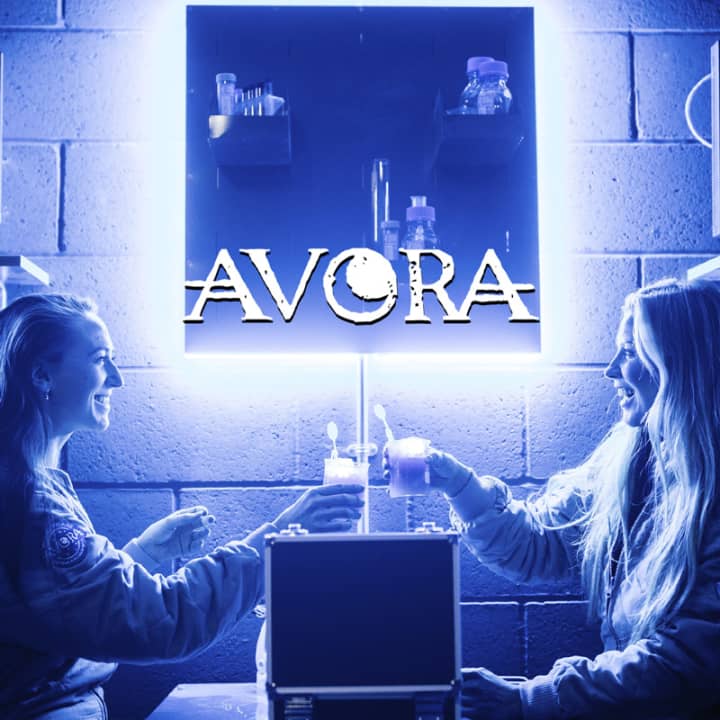 Avora: New World Cocktail Experience
---