Looking for something a little different to do this Christmas season? Channel your energy with tickets to Xtreme Painting, a series of cathartic art classes in South Kensington. These sessions will encourage you to create unique artwork using three original techniques, including splattering, graffiti and texture play, and bench the more traditional approaches. The sessions will be available for one weekend only – December 15–17 – so you'll want to secure your tickets, pronto.
What is Xtreme Painting?
Xtreme Painting takes the concept of classic art classes, and spins it on its head. Instead of sitting perfectly and pretty at an easel, you'll be guided by a professional to experiment with more joyous techniques. Forget colour matching and still-life replication; here, your masterpiece will be bourne out as many colours as you wish, splatters, graffiti, and more.
Rest assured, at Xtreme Painting, you will be provided with all the necessary equipment to protect your clothes and shoes, so just the canvas is left covered in colour at the end.
Xtreme Painting sessions last an hour and 15 minutes, and at the end of the session, you'll be able to take your masterpiece home. Sessions are suitable for those 16+ only, so be sure to leave the little ones at home.
Please note that the images in this article were created using artificial intelligence. While the experience hopes to replicate this imagery, it may not be a perfect likeness.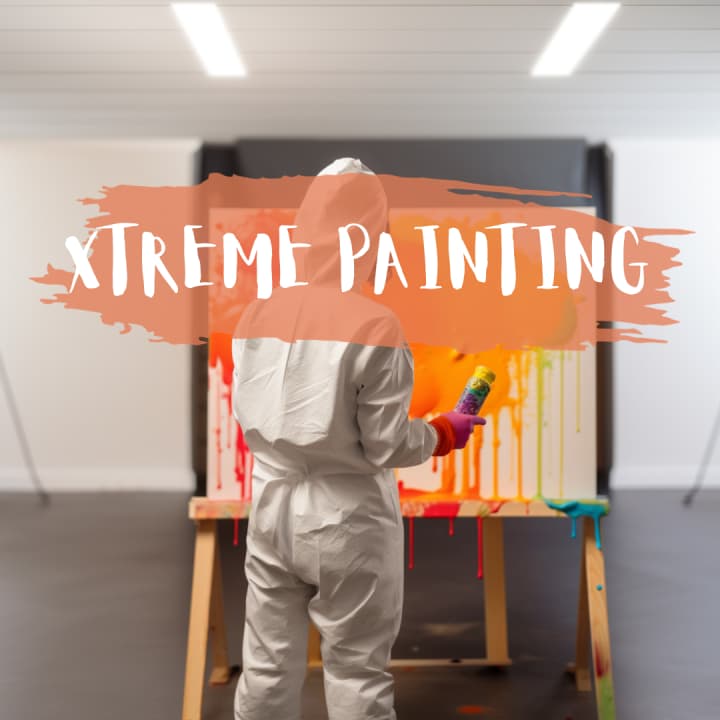 Xtreme Painting: Your Own Masterpiece Like Never Before
---