It's hot. Well, it's hot by British standards. And hot means only one thing for the Vitamin-D-starved amongst us: shirts off, bellies out, strap marks and frozen desserts. So make the most of an ever-so-slightly higher UV index over the next few days and get yourself down to Secret London's favourite frozen yogurt and ice cream spots.
1. Samba Swirl (Islington, Camden, Northcote Road and Chiswick)
Inject a bit of colour into your day with Samba Swirl, London's answer to Rio Carnival (in frozen yogurt form). At this Brazilian themed yog spot, you pay by the weight and with flavours such as coconut and guava at your disposal, prepare to be transported somewhere tropical.
2. Moto Yogo **Editor's Pick** (Shoreditch)
Moto Yogo understands that Happy Cows = Happy Punters. And these cows aren't just happy – they're the crème de la crème of cattle, currently living the high life in a grassy pasture with the sun on their backs. Served from their roaming electric milk float, Moto Yogo uses only the highest quality, organic ingredients and their Eton Mess with fresh strawberries and homemade organic meringues is the best combo out there. Moto Yogo will be serving up spoonfuls of happiness every lunchtime in Spitalfields Square from TODAY until the 12 June, and if you download the Fever app you can get one small yogurt pot with two toppings for only £2.50. I know what I'm doing for dessert.
3. Gelupo (Soho)
We can't talk gelato without talking Gelupo. Probably London's most famous gelateria, brought to you by the same chef duo behind brilliant Italian restaurant Bocca di Lupo, the geniuses at Gelupo keep fat content low and texture dense to ensure that their flavours sing out. Try the pistachio, and you'll get what I mean.
4. Freggo (Piccadilly)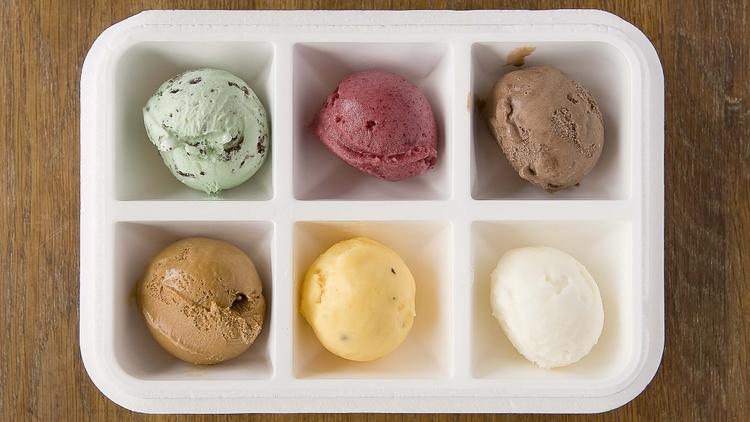 When I realised that Freggo was the UK branch of Argentina's famous ice-cream brand, Freddo, I nearly cried. Saying goodbye to dulce de leche when I left Buenos Aires after a three-month ice cream fuelled bender (you can order it to your door) was probably harder than saying goodbye to my boyfriend – when we broke up. Think I'm crazy? You've clearly never tried the stuff. Get started with the Temptation flavour – dulce de leche with caramel. You can thank me later.
5. Ice Kitchen (Real Foods Market, Southbank)
Strictly speaking, this isn't ice cream but aunt-and-nephew team Cesar and Nadia Roden deserve a mention for singlehandedly revolutionising an old childhood favourite. Parking their foodtruck on the Southbank every Friday, Saturday and Sunday, they serve up incredibly innovative ice lollies in a delicious array of refreshing flavours. The peach and hibiscus is something else but we're most excited about this summer's mojito flavour – not because of the rum content, promise.
---