London's food scene is stuffed full of pretenders to the coveted pizza king's throne. With so many venues wanting a slice of glory, see who's topping our list.
1) Homeslice, Covent Garden
What's up, Homeslice? Kicking off our countdown, these guys serve pizzas so massive you can order by slice, or just pig out on the entire 20 inches for £20.
2) Sud Italia, Old Spitalfields Market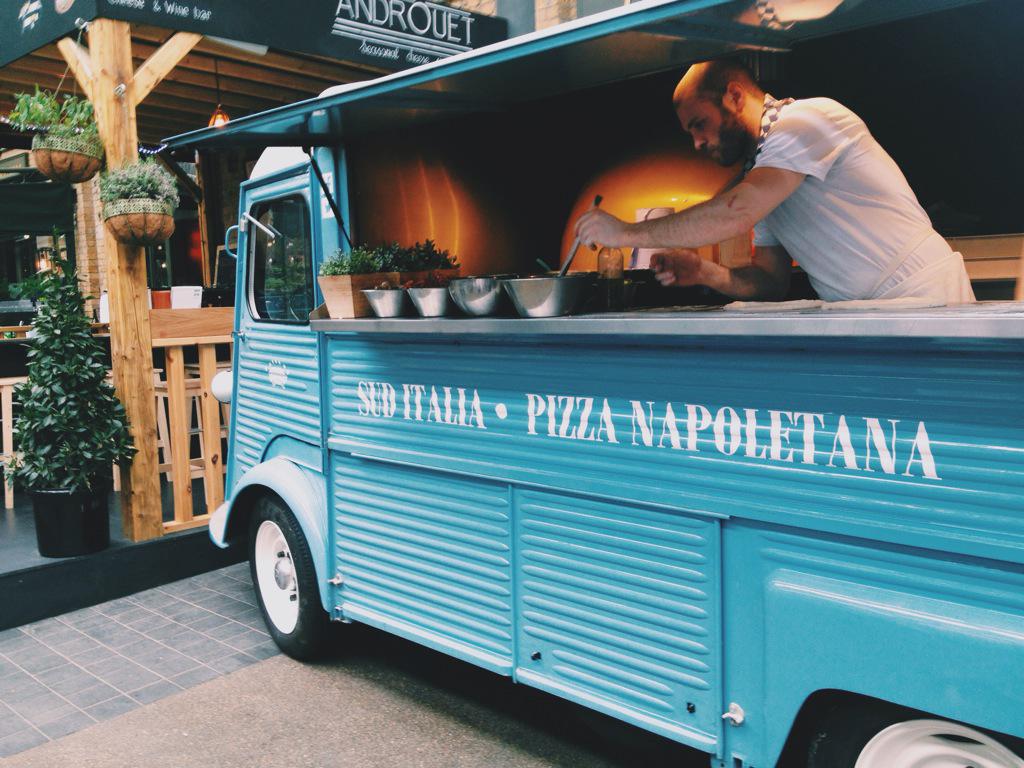 Served up fresh from a bespoke Citroen mini-truck, Sud Italia is the answer to all your lunchtime tummy grumbles. It's hugely popular with all the Italians and they've also got great deals going with the Fever app so keep a look out. You can't beat it.
3) Santoré, Exmouth Market
Authentic Neapolitan food, authentic Neapolitan service. These guys can be feisty, but their pizzas are legendary.
4) Pizza Pilgrims, Soho
So popular that they've upscaled from a 3-wheeler van to 2 shiny venues in Soho. Find them on Dean Street, or in Carnaby Street's Kingly Court.
5) Santa Maria, Ealing
It is written in pizza folklore that those who seek a good pizza shall visit Santa Maria. Owned by 2 Italians, the restaurant gives its pizza the royal hand-service it deserves, allowing the dough to rise for 24 hours.
6)  Princi, Soho
Another great Soho choice, this sharp London restaurant does a great brunch. But when it comes to pizza, Princi comes into its own with a pizzeria section to die for.
7) Saporitalia, Notting Hill
Pizza so good it will have you singing dough ray me etc. We think it's the luxurious, gooey mozzarella they use, but we'll let you decide.
8) Bravi Ragazzi, Streatham
Just look on Trip Advisor to see how much pizza gobblers are raving about this place in Streatham (94% rating). Part of the sourdough generation, their enormous pizzas are fired in a wood oven.
9) Pizza East, Shoreditch
With namesakes on Portobello Road and in Kentish Town, we've gone for the Shoreditch venue, because we're trendy like that. A pizza galactico, Pizza East manages to strike the right contemporary chord thanks to owners who have already masterminded the success of Dirty Burger and Chicken Shop.
10) Franco Manca, Brixton
The undisputed pizza kings for us right now. 7 separate branches across London says so. We've picked the Brixton branch, because that's where it all started. And we remember hearing whispers of it a couple of years ago and trying their sensational slow-rise sourdough for the first time. Oh to go back to that moment.
---