Our hygge guide will have you discovering London's best Nordic experiences in no time! (It's pronounced hoo-gah, FYI).
Perhaps the nicest present 2016 gave us – apart from freakshakes, naturally – was hygge, the Danish way of living that took the nation by storm. Since it arrived, armed with scented candles and cosy blankets, it has suffered a surprising amount of criticism. People have called it boring, too indoorsy, unsuited to London, and then other lifestyle trends came in to steal focus. (By the way, 2017's buzzy trend is called lagom, and it's a lot less fun). However, figuring that hygge and London actually go pretty well together, we've put together a guide to do it properly.
Just to clear things up, hygge isn't about staying inside and sipping hot chocolate by the fire (seriously, how many Londoners actually have a working fireplace?). It's more focused on wellbeing and happiness from doing little things, and you can do it alone or with friends. You could even feel hygge on the Central Line – in which case, congratulations on reaching a higher plane of existence! With London so full of Danish delights and Swedish suppers, we've rounded up the capital's best Scandinavian offerings. All of these notoriously Nordic experiences will get you active and keep you hygge-happy through the long, dark winter.
More food than you can Finnish.
Of course it bloody well starts with food. Why would it not? The best Scandinavian cuisine in London will put a smile on your face wider than the Øresund bridge.
With four locations across London, Nordic Bakery is your first stop for some proper Scandi grub. They're offering coffee, cakes, and more cinnamon buns than you can shake a stick at.
Find them in Soho, Baker Street, Marylebone, and Covent Garden.
Whether you're a Swede far from home, or a Londoner looking for some a taste of Norway, this is one to visit. With a big range of authentic groceries, you can stock up on Scandi candy and then head to the attached cafe for a snack.
61 Great Titchfield Street, Fitzrovia, W1W 7PP. Nearest station: Oxford Circus
Daringly Danish, Snaps and Rye serves a lot more than just snaps and rye – though, having said that, their sourdough rye is baked in-house and tastes incredible. All the smorrebrod you can eat, plus breakfast and brunch options. Try the full Danish for a proper viking start to your day!
93 Golborne Road, Notting Hill, W10 5NL. Nearest station: Ladbroke Grove
For the uber cool amongst you, Lisa's in Notting Hill makes for a suitably suave evening out. The menu is all about modern Swedish cooking, and the restaurant itself could have been nicked from Stockholm.
305 Portobello Road, W10 5TD. Nearest station: Ladbroke Grove
Drink like a Viking.
You and a group of friends, propping up the bar and catching up after a busy week. What could possibly be more hygge than that?
Located just off of Oxford Street, Nordic Bar has perfected the laid-back, easygoing attitude that is central to hygge. They promise Scandinavian beers, as well as niche vodkas and gallons of aquavit too. All of which will be helpful, because they like a party!
25 Newman Street, W1T 1PN. Nearest station: Tottenham Court Road
Kosmopol gives you a little slice of Stockholm cool right in the heart of Chelsea. Sip on a Swedish Spring Punch (still very drinkable in winter) and contemplate exactly who you'll be getting cosy with this winter.
138 Fulham Road, SW10 9PY. Nearest station: Gloucester Road
And you thought London winters were cold enough already? A trip to Icebar will show you the true meaning of cold, as you chillax in a palace made from pure Swedish river ice. Fashionable ponchos and drinks served in specially carved ice glasses make this an Instagrammer's paradise.
31-33 Heddon Street, Mayfair, W1B 4BN. Nearest station: Piccadilly Circus
Nordic roller skiing.
You'll have earned those comfy moments only once you've done a bit of exercise. Fortunately, you can sack off your 5k run because we've found something better. London Region Nordic Ski Club are putting on taster sessions and beginner courses to teach you how to roller ski. Next time you find yourself lost in the forests of Lapland, you'll have those hours of roller skiing to thank for your survival!
Relax in an authentic Finnish sauna.
Fun fact: Finland averages one sauna per household. For those of you who haven't been able to fit one into your Hackney bedsit, we've got you covered.
Southbank Centre
The Southbank Centre's rooftop sauna is returning for another year, so you can sweat out those winter worries whilst enjoying views of the Thames. It's open from November 10th until December 30th, and the resident sauna expert will ensure you get the best experience possible.
Tickets are available here.
Fancy a steam with a side of spiritual enlightenment? Get yourself down to Rotherhithe, where you'll find the Finnish Church in London. Quite apart from offering Finns a home away from home, it also contains a public sauna! For just £6 per hour, you can steam your troubles away. Their Finnish shop also contains the largest selection of Finnish food in London, which is handy if you feel like making one of these.
33 Albion Street, Rotherhithe, SE16 7HZ. Nearest station: Rotherhithe
Make your flat a cosy paradise.
Ok, so we promised we'd get you out and about, but sometimes, Netflix is just too darn appealing. Make sure your home is cosier than a Norwegian ski lodge with a stop at these shops.
Down in Putney Bridge, you'll find all the Nordic designs and home furnishings your heart desires. Blåbär has everything a wannabe Scandi could ask for to make themselves comfortable this winter, including a candle that claims to capture the scent of hygge.
3A Lacy Road, Putney, SW15 1NH. Nearest station: Putney Bridge
Are you in desperate need of a furiously fashionable Swedish lamp to illuminate those long winter nights? As long you've got the funds, Skadium have the answer to your prayers. They're currently having a sale, which is enough of an excuse to use this gif: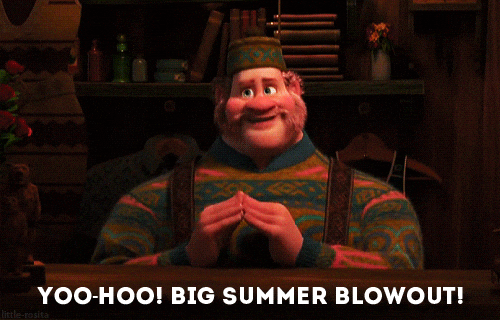 Find your nearest store here.
The best parties Norway and Sweden can offer.
Hygge comes in all shapes and sizes, but perhaps the best way to feel happiness and contentment with your life is to go out and shake a tail feather at one of these places.
We don't suppose there was a huge competition for the title of "best Norwegian-themed bar and concert venue outside of Norway", but if there was, Hackney has the winner. Whilst Oslo does some cracking food and bevvies, the awesome array of musicians who make a pilgrimage here is the main draw.
1A Amhurst Road, Hackney, E8 1LL. Nearest station: Hackney Central
You didn't actually think we'd do a Scandinavian article and forget about IKEA, did you? If you're the kind of person who loves IKEA – and, let's be honest, who doesn't? – then the 30th anniversary house party they're throwing should be right up your street! They've taken over and redecorated a four storey house in Soho, and it's free to attend.
19 Greek Street, W1D 4DT. Nearest station: Tottenham Court Road
For a true hygge experience, nab yourself a riverside igloo and keep an eye out for the Northern lights. Wrap yourself up in an outrageously cosy jumper, and you're sure to feel like you're in the Arctic Circle.
Featured image: @bernd_se
---
Also published on Medium.
---