So, you missed your chance at a ticket to watch Wimbledon this year… again. Don't fret, we have the top five free places where you can spend your days endlessly watching on a large TV screen whilst drinking, eating and topping up your tan of course! This is your chance to bag a front row seat to catch the moments of Wimbledon that no one wants to miss between 29th June-12th July
1. One New Change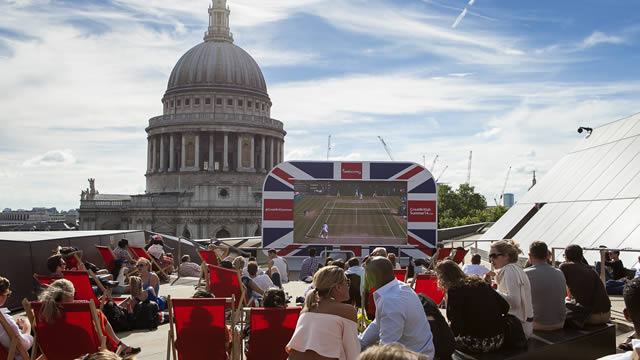 You can watch the tournament at the top of the roof terrace of One New Change. With an ice cream van on the ground floor and Vietnamese street food from Pho on the rooftop, you really couldn't ask for more. Take a seat on one of the deckchairs in front of their "lifesize" screen… so basically you haven't missed out at all. We are guessing they mean a screen the width of the court, but you never know, you might just be in for a 3D tennis treat. Use the Fever app to RSVP your seat at one of the best screens you'll find.
One New Change
EC4M 9AF
2. Bluebird (you're expected to buy some food or drink)
Bluebird restaurant is inviting you into their glorious courtyard, where they'll be screening the Wimbledon tournament. There's a special menu for the occasion and for the kids (you can go too, we won't judge) and a Wimbledon cupcake-decorating class in the Food Store. Get there early for a seat, or the No Reservations policy could lead to heartbreak.
350 King's Road
SW3 5UU
3. Canada Square Park
This summer you can catch all things sporty on the Canary Wharf Summer Screen. Wimbledon kick starts the season, with the F1 British Grand Prix, Open Golf Championship and more to follow. Due to the al fresco nature of the location, you may want to bring your own cushions and picnics for ultimate comfort, or just slum it. Up to you.
Canary Wharf
E14 5AX
4. Lewis Cubitt Square
If you're one of the lucky first 50 people, you'll be able to grab a deckchair and sit back ready to watch your favourite players. When you start to get those hunger pangs, don't fear losing that precious seat, as KERB street food will be right on hand.
Handyside Street
Kings Cross
N1C 4UZ
5. The Scoop at More London
Right next to City Hall, The Scoop at More London City goes for the less is more vibe. Apart from some seats… it really is just a screen, but the surroundings of London Bridge and the Thames are a definite draw.
Queen's Walk
More London
SE1 2DB