Just when you thought you'd seen the craziest pop-up in London, NUNdos comes and raises the bar to the heavens.
London has a chronic obsession with buzzy new pop-ups, and it just can't seem to shake the habit. That's not likely to get any easier with the arrival of NUNdos, a pop-up restaurant operated entirely by nuns. Looks like its time to grab your sisters and head on over for what we assume will be divine food.
It's setting up in Shoreditch, because OF COURSE IT BLOODY IS (apologies, we'll take our confession later). NUNdos is the brainchild of Channel 5, who are using it to promote their new reality series Bad Habits: Holy Orders. From October 17th-19th, you'll be able to chow down on chicken broth and lentil soup and talk to the sisters about life in their convent. Since the convent in question is the Daughters of Divine Charity, all the food is going to be free – hallelujah!
Pre-booking a slot is apparently sinful, but you can register your interest by emailing NUNdos@taylorherring.com. Additionally, for anyone who's sick of the latest food fad cluttering up your Instagram feed, your prayers have been answered. It's billed as a 'place for serenity, nourishment, and reflection', so all phones will be left at the door.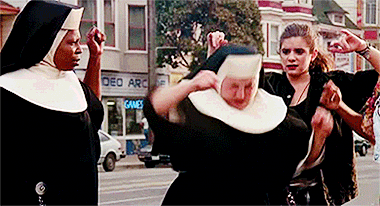 This latest addition to the London food scene may be a Hail Mary, but there's only one way to find out. And hey, if attending earns you some credit with the man upstairs, why not give it a try?
NUNdos will be located at White Rabbit on Dereham Place, EC2A 3HJ
---