All Hallows' Eve is a time for revelry and devilry, but if you don't fancy a club night, then here are Halloween events you can enjoy without losing your head.
It's not just all-night Halloween parties here in London – there are classic horror film screenings, macabre dinner parties, and even the odd seance to attend. Fancy dress is strictly optional at these Halloween events (but we know you're going do it to anyway!).
Jump out of your seat at a fright-night film screening.
We'll head out on a (severe) limb and say that no holiday produces better films than Halloween. (Sorry, Santa.) And this year, Halloween is just spoiling you with the amount of choice on offer:
Get Out at Black Swan Studios, Bermondsey.
October 31st, 7pm.
Block Party Cinema are bringing one of the year's best horror films to SE1. They're showing Get Out on Halloween night, and are throwing a prize giveaway and some fresh tunes into the mix, too.
Ghostbusters at Belair House, Dulwich.
October 29th, 6pm.
Now that you've been to Dulwich, you know exactly where to go for Night Star Cinema's outdoor showing of the 80s classic. You can find the screening (and the optional afterp***y) at a mansion called Belair House. Mansion, Bel Air, stop us if you've heard this one before…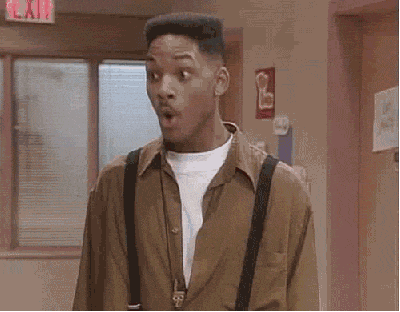 Silence of the Lambs at The Hoxton Hotel, Shoreditch.
October 29th, 6:30pm.
If Slimer & co aren't scary enough for you, then The Hoxton Hotel will be proving that fear is a dish best served cold with their showing of Silence of the Lambs.
Teeth at The Book Club, Shoreditch.
October 31st, 7pm.
For another horror film with bite, head to Shoreditch for a showing of Teeth. It was once described as "the Incredible Hulk of sex satires", and if that doesn't sell it to you, we don't know what will. Maybe the fact that proceeds are going towards setting up The Vagina Museum will sweeten the deal?
Hocus Pocus at The Clapham Grand, Clapham Junction.
October 18th & 24th, 7:45pm.
Let's get real for a moment. This the Halloween film that towers over the rest, the savant of spook that keeps us coming back year after year. An intoxicating concoction of Halloween, 90s fashion, and Bette Midler, it's heading for the the big screen on October 18th & 24th. Punters likely won't be shushed for talking, as there will be drinking games, sing-a-longs, and heckling aplenty. And a prize for the best Sanderson sister costume, hint hint…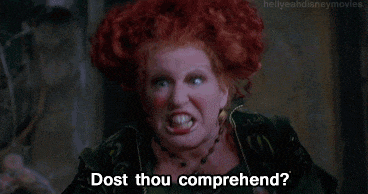 Contact the spirit realm at a Victorian séance.
The Viktor Wynd Museum of Curiosities, South Hackney.
October 24th, 6pm & 8:30pm.
The Last Tuesday Society are hosting a Victorian séance with master illusionist Philipp Oberlohr, aiming to get in touch with some spirits. Given that there are Victorian-era cocktails on hand, you're guaranteed to make a connection with spirits of some kind.
TROLLLL IN THE DUNGEON! It's Halloween at Hogwarts!
Harry Potter Studio Tour, Leavesden.
October 27th/28th/29th, 7:30pm.
The world's most magical film franchise is certainly no slouch when it comes to Halloween events, and they've got the floating pumpkins to prove it! Join the Potterific fun with their Hogwarts After Dark event, which dives into the darker side of the wizarding world. Expect a two-course dinner, a trip into the Forbidden Forest, and Death Eaters taking over Diagon Alley. Apparate, take the Knight Bus, or hop in the fireplace; just make sure you get yourself here.
Sip on the world's best cocktails – with a Halloween twist.
Dandelyan at The Mondrian Hotel, South Bank.
October 27th – 31st
Fresh from being named the best cocktail bar in the world, Dandelyan is ready to indulge you this Halloween. They're partnering with Licoreria Limantour of Mexico to create a set of themed cocktails for a limited time only. The menu will be inspired by "ideas of preservation, zombification, and cheating death", and personally we cannot wait.
A macabre feast from Gordon Ramsay.
Heddon Street Kitchen, Mayfair & Bread Street Kitchen
October 27th – 31st.
Sink your fangs into a delicious themed menu. As you'd expect, there will be devilishly good food – think veal shin with smashed pumpkin and black garlic sauce, or a whole suckling pig with apple compote. They've also summoned bartenders from the netherworld to create some Halloween inspired cocktails. Find out more about it here.
Heddon Street isn't just for Halloween – here are 9 places that make it an evergreen destination.
Muahaha! Time for a villainous brunch.
The Lucky Horror Show Brunch, at Lucky Voice, Islington
October 28th.
It's astounding, time is fleeting… So hurry up and book yourself a spot at the sassiest karaoke brunch in town! Bottomless cocktails will provide you with enough Dutch courage to get up on stage and time warp with the best of them.
Pirates of the Reggae Brunch, at Cottons, Vauxhall
October 28th.
Halloween always invites a proliferation of pirates, and this reggae-themed Halloween brunch is sure to attract some of saltiest seadogs around. Thankfully, there's an inexhaustible supply of rum punch, Caribbean food, and a sweet reggae playlist to keep them entertained.
90s Brunch: Heroes and Villains Halloween, at Proud Cabaret, City of London
October 28th.
For a classic showdown between good and evil, head along to this heroes vs villains brunch. If you've ever wanted to see Aladdin and Jafar sort out their differences in a lip sync battle, then Fever have answered your prayers. Throw in a three-course cocktail-fuelled bottomless brunch, and you have yourself a heroic Halloween!
Celebrate life with a Day of the Dead festival.
It falls at the same time of year, but it's very different to Halloween. Perfect for anyone fed up of cardboard spiders and creepy clowns! Expect candy skulls, elaborate face paint, and some cracking fancy dress at these events.
LOSTACOS at Doodle Bar, Bermondsey.
October 22nd, 2pm.
Munch down some glow-in-the-dark tacos whilst watching Juan of the Dead, in which the Cuban revolution collides with a zombie apocalypse. Authentic? Not particularly. Bags of fun? You betcha!
Wahaca's Day of the Dead, at Waterloo Vaults.
November 2nd-4th.
Expect live music, oodles of street food, and a faux Mayan jungle, all of which will raise funds for the victims of the Mexican earthquakes.
Day of the Dead at Junkyard Golf, Brick Lane.
October 31st.
Our friends are back to make putting petrifying with their Day of the Dead event, teaming up with El Jimador to transform their courses into an immersive fright-night experience! Visitors can expect actors, magicians, and circus performers, all watching you tackle that tricky fifth hole. It's clubbing of a very different kind, but we think it's more fun to be honest.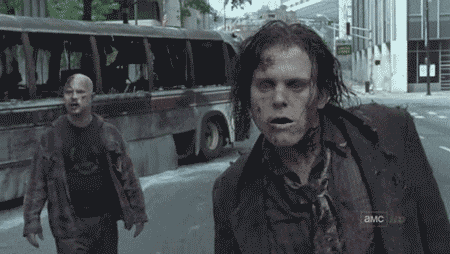 A secret location in East London (address given upon booking).
Sessions available throughout October.
Fighting for survival has never been this fun! Experience run-for-your-life fear at this undead version of the trapped in a room format, as you'll have to solve the puzzles before the zombie gets loose and feasts on your delicious brains…
Let the games begin this Halloween!
Ghoulish Games at Wac Arts, Hampstead
October 26th.
Dare you take a chance? Head back to school this Halloween with a night of old school games, under the watchful eye of the ghastly games mistress. Tickets are available via Fever – just promise us you won't gamble away your soul, okay?
See London's attractions in a spookier light.
As you'd expect, London's top tourist destinations have unveiled their Halloween events to fright and delight you.
The Death Express at The London Dungeon, South Bank.
Runs until November 6th.
Take a ride on the train that transported corpses out of London – just as lively as the Monday morning commute from Watford Junction, we presume.
Ghost Bus Tours, depart from at Northumberland Avenue, Westminster.
Tours run Thursday to Sunday, multiple times available.
Hop on the Necrobus to speed around London and learn about ghosts. Or more realistically, sit in traffic and learn about ghosts.
Dusk 'til Dawn at Hampton Court Palace.
October 28th, 6:30pm.
In a throwback to the days of teenage sleepovers, Hampton Court Palace are hosting you for an overnight stay. They'll party like it's 1603 (i.e. in mortal fear of witches n' demons), with a three course meal, supernatural tours, and a bedtime ghost story.
The Addams Family in concert at Royal Albert Hall, Kensington.
October 26th, 7pm.
London's top concert venue hosts a screening of The Addams Family with a live orchestra accompaniment. It's the world premiere too, so make yourself pretty – you don't want to Fester when you Lurch on over!
Still in search of a party after all that? The biggest Halloween party in London is happening at the O2, and Xclusive Touch has just the ticket for you!
(Visited 12 times, 1 visits today)