It's Friday and the sun is shining. Let's face it, the only two who are not excited about that are your bank account and your liver. Do things the right way: ditch work early and get yourself to one of these gorgeous beer gardens. They'll be full by 6pm. If that's not a good enough excuse for your boss I don't know what is.
1. The Albion, N1 1HW
With over-hanging wisteria, pergolas and picture-book charm, this glorious little beer garden will make you feel like you're sipping a cider in a quaint countryside village, not in Islington. The prices, however, are most definitely London ones – and the crowd, especially on a Friday after work, matches this vibe.
10 Thornhill Road 
2. The Magic Garden, SW11 4LG
This boutique beer garden is open until midnight and represents one of the more lively joints to hang out South of the river. They've got great live music and fairy lights, plump cushions and a gorgeous teepee provide a really magical summer escape.
231 Battersea Park Rd 
3. The Ship, SW18 1TB
Just a stone's throw away from the Thames, The Ship is nestled just near Wandsworth Bridge and it's a great place to sit on a summer evening as you watch the sun go down. The food here is also excellent – the pork belly with fondant potato, bacon dumpling and crackling is good grub at its most gluttonous.
41 Jews Road 
4. The Junction Tavern, NW5 1AG
For a good pint of Junction Ale in a unpretentious setting, nothing beats this low-key beer garden in Tufnel Park. The wood is chipped, the bricks are exposed and the beer is on tap. You know what you're in for.
101 Fortress Road 
5. The Windsor Castle, W8 7AR
For a posh pint with a royal or two, head to Kensington's The Windsor Castle. It's got heaters for the more chilly days and a lovely cosy back garden. Get there early to avoid the bankers.
114 Campden Hill Road 
6. The Duke Of Edinburgh, SW9 8AG
Nestled in the depths of Brixton, this may not look like much from the outside but head out back to the beer garden and you will be totally blown away. Tables and tables filled with people, outdoor bars and a smoking BBQ makes this the ultimate summer spot. DJs play on the weekend – and things can get pretty noisy.
204 Ferndale Road 
7. People's Park Tavern, E9 7BT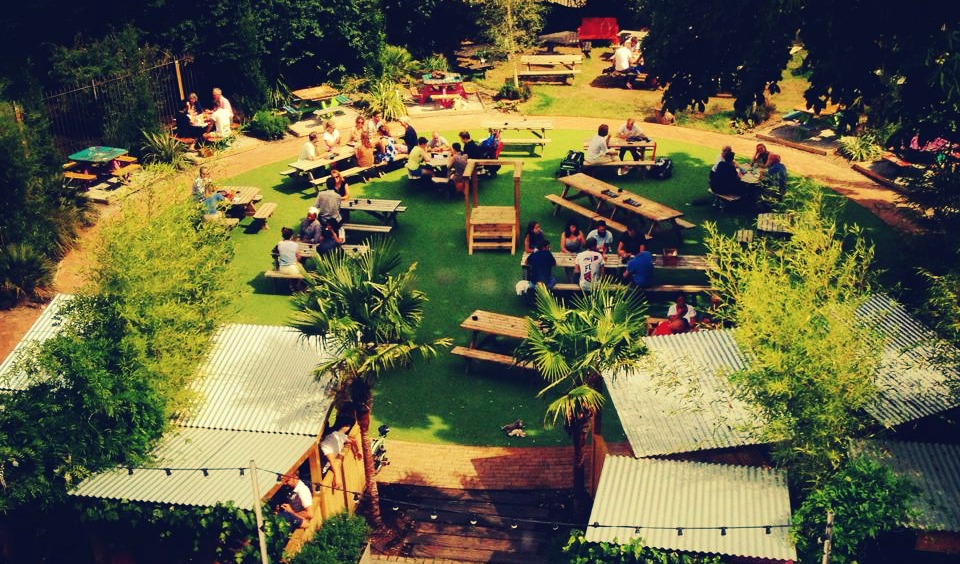 Beer gardens really don't get much better than this. It's a brilliant Hackney pub in Victoria Park, with astro-turf, brightly painted tables and a BBQ is rolled out during the summer months. They've got their own micro-brewery on site: the People's Pale Ale is light and refreshing and SHOCK HORROR it won't actually break the bank either.
360 Victoria Park Road 
8. Crate Brewery, E9 5EN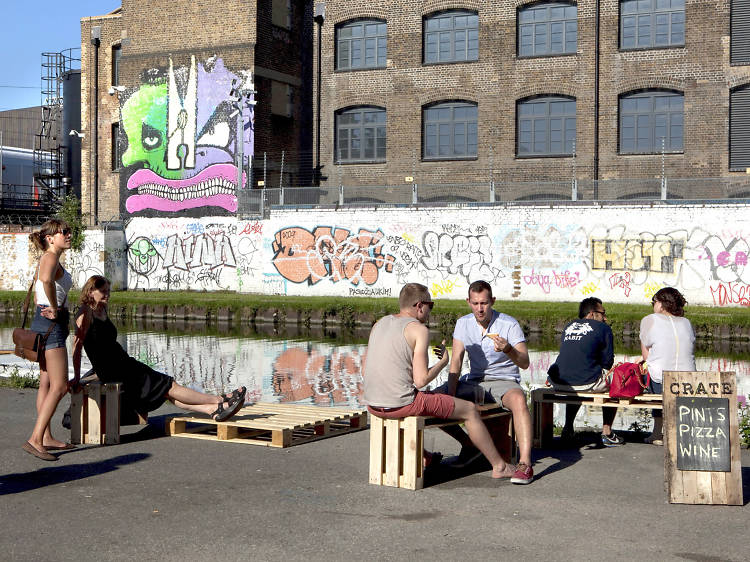 For the trendy option, the Crate Brewery in Hackney Wick is a pizzeria and brewery with a great outdoor space. Everyone there is guaranteed to be better looking than you – but that's just East London for you isn't it?
Unit 7, Queen's Yard