LFW: a mystical event where long-legged fashionistas assemble all the way from giantsville in order to pretend to be vaguely interested in a couple of cat walks, the designer of which they can't even pronounce; the real reason actually being to get photographed in their own 'trendiest' à la mode get up, be scouted as the next Donatella and ultimately sit on top of a billion dollar fashion empire. And, of course, earn a cameo appearance in Zoolander 3. Duh. For this to happen, you must stand out. You must draw eyes, ears, and occasionally noses (ok, we made that one up…) but this does not always come naturally. Here are those that do…some effortlessly. Others…slightly less so ?
1. The Supermodels.
Ok, pretty much about the only ones we can't take the mickey out of. Because they sort of own the whole shebang. And we aren't talking about the models on the catwalk – we're talking about the ones that are permanent residents of giantsville, appearing beneath the stratosphere only to support their designer BFFS and for their beautiful, statuesque bodies to be photographed in order to remind us average-height earth dwellers that a higher being does exist.
2. The Fashion Blogger/know it all.
Ok, so while this pic was taken by a blogger imitating fashion bloggers, it still speaks volumes. The phrase 'a picture is worth a thousand words' rings high and true here more than anywhere…and it seems that pretty much all fashion bloggers just really, really want is to get their photo taken. And the competition is pretttyyyy fierce. Resulting in outfits such as this *see above* and this *see below*. And them actually being taken seriously. Come on.
3. The one who is so *fashion* it's a bit scary.
No more words needed here, really. Except that it's 'FASH-UN' dahling. Yikes.
4. The sneaker-in-er.
"Something just isn't quite right here but I can't quite put my finger on it…" ? There's always someone you don't recognise but who you just assume is supposed to be there because they've somehow managed to wangle a place in the front row and are dressed so 'down' that it's supposedly even more fashionable than number 3. And you just pray that they've actually just stumbled in by complete accident and have absolutely no idea what's going on.
5. The model wearing an outfit everything thinks is ridiculous but who won't admit to hating it.
6. The overworked intern.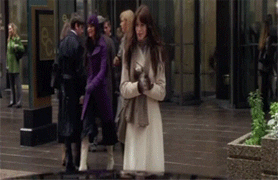 Romanticised by the likes of The Devil Wears Prada, this intern will be running on two hours sleep, 8 cups of coffee and a whole lotta determination. Probably one to watch…but for now, your best bet of talking your way into the after show party.
7. The gender ambiguous person of fashion.
Is she a fashionista who's really into androgynous dressing? Or is he a very effeminate man who's just embracing the oversized look? Who knows. Who cares! We don't. But if they do happen to nip to the toilets, let us know…just purely for fashion reasons…?
Featured Image Credit: Irish Examiner/Gallerina News
---