Move over oysters, there's a new kid on the block. In fact, there's a whole gang of them. Recent research shows that specific nutrients and foods help to keep the, ahem, important parts of the body ticking over. Not that we're trying to imply you actually need to eat them or anything but you know, there's always room for improvement…
1. Unsweetened Tea
Tea contains an antioxidant known as catechin, which promotes essential blood flow to all the right places. It also boosts memory, mood, and concentration, keeping you focussed when it really matters. Obviously you can find tea pretty much anywhere in London but did you know that we may be about to get a pub dedicated entirely to our nation's favourite hot drink? Brew, which will have the feel of a pub but instead of pints of beer will serve pots of tea, has smashed its crowdfunding target so it looks set to go ahead. And in case you were worried, they'll also provide tea cocktails. Cos let's face it, a tea-total pub was never going to work…
2. Ginger/Sesame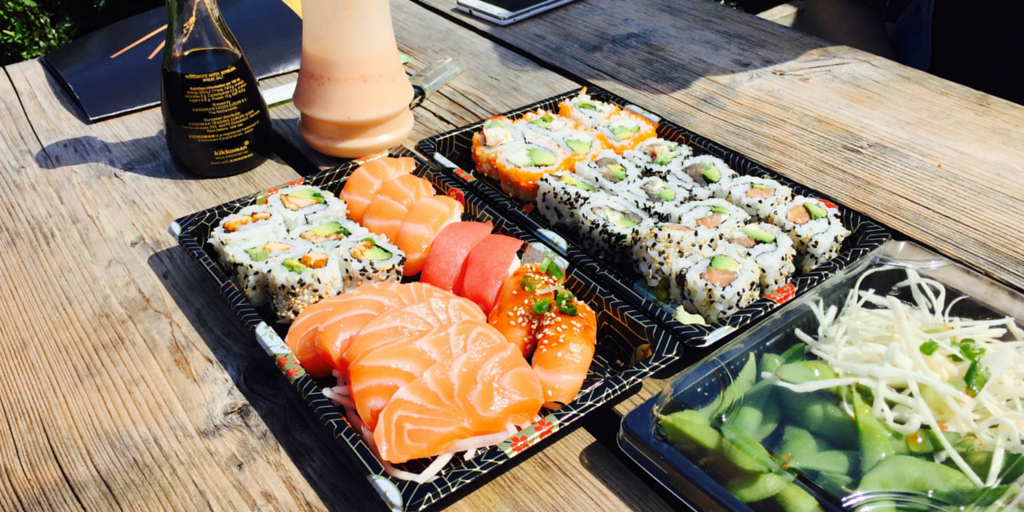 Sesame seeds contain sky-high levels of zinc, which make them a great food for increasing the sperm count and testosterone in men. Low testosterone is linked to low libido, which brings back bad memories of comparing finger sizes at school, doesn't it? No? Just me then. Anyway if you eat lots of Japanese food, you'll be laughing. Whack some ginger on the side: it's a great cold preventative (and no one wants a runny nose in bed). For a quick lunchtime boost, our favourite cheap London sushi spot is Sushilicious at BoxPark in Shoreditch. Order it through the Fever app and you'll get a free drink with your box too!
3. Avocado
As if we needed more reason to eat avocado… The most Instagrammed food of the moment is not only divine on a piece of toast but it also contains vitamin E, potassium, and vitamin B6, which promotes blood flow and reduces the risk of heart disease, making you much less likely to pull a Roger Stirling. There's an Avocado Café at Maltby St Market, which we've written about before and the Healthy Stuff cafe in Hackney does the best avo on toast in East London. Big claim, we know.
4. Watermelon
Watermelon is mostly water, but the melon part is apparently packed with all kinds of sexy essentials. According to Science Daily, watermelon has ingredients that can give Viagra-like effects to blood vessels. Now this one's not strictly a watermelon and it's not strictly happening in London either – but just LOOK at the Taiwanese watermelon bread! It's made by dying layers of bread with green tea and strawberries, so yeah, it's really just not related at all. (Tesco do a good snack pot. And it only costs £2).
5. Eggs.
Eggs are high in protein and low in calories, making them super healthy. They also boost stamina and endurance during high-intensity workouts, meaning you'll be able to last for hours…on the treadmill. Egg Break has recently opened in Notting Hill – no prizes for guessing what's on their menu. The pork belly carbonara (with an extra egg on top) won't do wonders for the waistline but saying that, it kind of combines everything we love about life on a plate – so screw the diet.
6. Figs.
For some reason, it just isn't that surprising that figs are good for females is it? Oh who are we kidding, the reason is staring you in the face right now. Figs are major fertility boosters and they help ladies release super sexy pheromones. For the best walnut and fig jam, try the sticky selection they've got on offer during breakfast at Aubaine.
7. Strawberries.
Oooohhh so that's why strawberries and chocolate are supposed to be sexy. But whether they're smothered in whipped cream or not, essentially it's the antioxidants in these juicy bad boys that get your blood pumping (and your heart racing). For a fun way to get your strawberry fix, try PYOing it. You can Pick Your Own strawberries at Parkside Farm in Enfield – London's own award-winning 50-acre farm. Or alternatively, you could just squash them down into a really delicious cocktail, like the Spring Cup we tried at Rev JW Simpson on Goodge St. The bourbon part maybe isn't so healthy but a bit of dutch courage always aids performance. (Please note: when we say a bit, we do mean a bit).
---