These babies are guaranteed to make you fall in (London) love. Big claims, we know, saying that eating outside has the mystical powers of attraction akin to one of those fat little babies with wings (a cherub, I'm talking about a cherub). But these are no ordinary outside eateries; these are London outside eateries [M&S music plays in the background]. Obviously we're going to do better than some scuzzy gravel and plastic lawn furniture. Go forth and seek out these corners of contentment and you'll see what I mean.
1. For a heavenly haven: Neals Yard, Covent Garden.
In my mind, the more primary colours you use on your store front, the more successful you're going to be. Neal's Yard is the go-to for peace and tranquility in the heart of London (though perhaps not on a Saturday) with quaint coffee shops, independent stores and plenty of hippie-hippie shake places for all your zen-master needs. Home Slice opens at 12 and serves some seriously delicious wood-fired pizza.
2. For the not quite outside experience: Cinnamon Kitchen.
This isn't technically outside so sue me if you really want to but the super high almost-invisible glass ceiling and occasional shrubbery means you practically are. It's a sister restaurant to the highly acclaimed Cinnamon Club in Westminster and its location on the Devonshire Terrace means you're protected from any pesky weather changes that London seems so fond of. We've raved about their ice cream sandwiches and the owner is popular TV chef Vivek Singh so you're guaranteed to get good grub.
3. For Club Tropicana vibes: Blixen, Shoreditch.
Spitalfields often splits (hehe) opinion, but we think Blixen might just be THE reason you were looking for going. We'd recommend going for brunch, but the all-day menu is pretty stand alone as well. The whole 'al fresco' aspect is in the raised pergola at the back of the restaurant which joins the market, with tropical plants, flowers and cacti (George Michael eat your heart out).
4. For 'l'amour': Clos Maggiore, Covent Garden.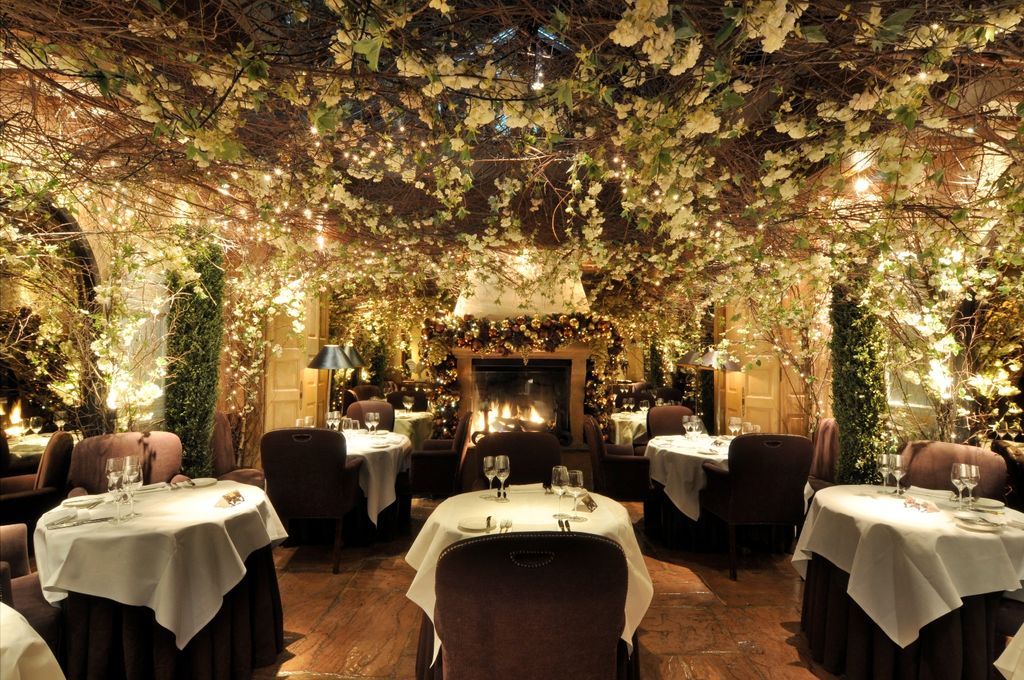 This one is truly magical and it's won awards for being so swoon-worthy. However the ever famous room of flowers is actually only a very small part of the restaurant. So unless you have some serious bargaining abilities, the chances of you sitting in said room are quite slim (sorry). But we're putting this in because IF YOU CAN it's worth going to sit underneath the stars (the roof is retractable you see) and the climbing flower trellis (don't worry-no bugs allowed).
5. For the 'trendy' ones: Frederick's, Islington.
I don't like using the word trendy as a rule, since it often evokes images of parents, Facebook and the wearing of loom bands (2012 was a bleak year). But Frederick's is so cool and suave that you will probably mention it to your colleagues as "that trendy place in Islington". The long garden room at the back of the restaurant is the main draw for this place and weather permitting it can be a beautiful boozy brunch spot for Sunday morning sessions.
6. For choosy chewers: Kingly Court, Carnaby Street.
There are so many nice places to eat in Kingly Court (21 restaurants/cafés), so you can take all your pickiest eaters (or just eat your way around the square-we don't judge). If you're a fan of ramen, definitely try Shoryu; their Origin Tonkotsu is perfection in a bowl.
So now you've seen how al fresco dining doesn't have to be someones coat and packet of Salt and Vinegar McCoys, why not try out some of these for yourself. Our top tip? Always bring a brolly. I mean most of these places have coverings so you're totally fine. That was more of a general tip, for life.
Got any al fresco areas you think we should know about? Tweet us at @Secret_LDN and give us the goss.
---