We all think we've done it all. Ride on the London Eye? Take a selfie on Abbey Road? Done it. But honestly, there are so many weird and wonderful things in London that you have to try at least once in your lifetime. Do yourself a favour and grab a pen, read our checklist and tick off all the things you've tried. Points to those who've managed to do 50.
1) Take a picture with a palace guard
2) Eat in a Michelin star restaurant in London.
3) Go to a football match and cheer like a nutter.
4) Rave in Fabric/Egg till 6am.
5) Drink in a rooftop bar (like Vista…)
6) Eat something from a pop-up (eg. Rib Man, Mother Flipper).
7) Get hooted at whilst driving round the Marble Arch roundabout.
8) Rent a Boris Bike.
9) Take the Emirates Cable Car.
10) Marvel at driverless DLR trains.
11) Order a hipster coffee in Shoreditch.
12) Shop on Oxford/Regent Street.
13) Go to the Sherlock Holmes museum at 221B Baker Street.
14) Try and understand some art at The Tate Modern.
15) Take some pictures of Battersea Power Station.
16) Ride around Soho in a tuk-tuk.
17) Go to a London music festival (like Wireless, Found Festival).
18) Go for a boozy brunch (eg Bunga Bunga).
19) Instagram a picture of Big Ben.
20) Wander round Brixton market.
21) Listen to a live band in Camden.
22) Go to Kew Gardens.
23) Chase a bus down the street in the rain.
24) Go to the darts at Ally Pally.
25) Ice skate at the Winter Wonderland ice rink.
26) Eat a slice of pizza in Leicester Square at 4am.
27) Frape someone at the Apple Store on Regent Street.
28) Check out an exhibition at The V&A museum.
29) Find out whether The M&M Shop really is a tourist trap.
30) Sit on the back seat at the top of a double decker bus like an absolute badman.
31) Try the Champagne Experience on The London Eye.
32) Eat some Tapas and have a drink in the yard at Camino, King's Cross.
33) Dress up in idiotic fancy dress and go to Infernos in Clapham.
34) View things from The View at The Shard.
35) View things from the hill at Primrose Hill.
36) Get chauffeur driven round Mayfair (preferably in a Rolls Royce).
37) Have breakfast at The Ritz.
38) Visit the Abercrombie & Fitch shop and comment how much better it was 5 years ago.
39) Take a boat trip down The Thames.
40) Scream like a little girl at The London Dungeon.
41) Pull faces at the animals in ZSL.
42) Listen to a soap box ranter at Speakers Corner, Hyde Park.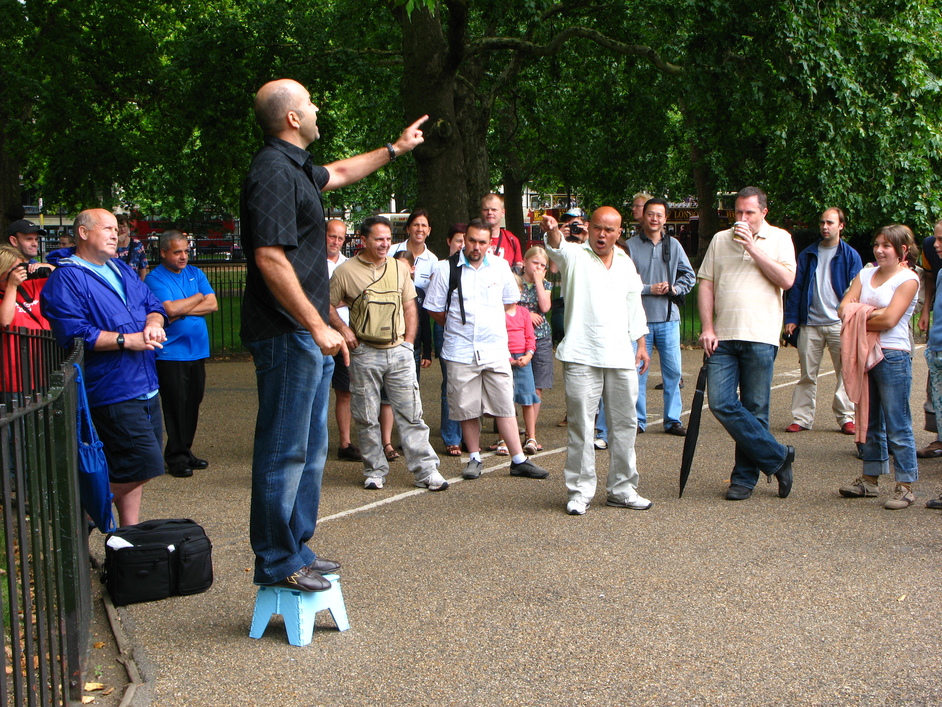 43) Watch the street performers at the South Bank.
44) Get a crepe at the Hampstead creperie.
45) Go to a theatre on/around Shaftesbury Avenue.
46) Pick up a free newspaper on the way into a tube station (and then inevitably leave it on the seat).
47) Have afternoon tea at Claridges.
48) Go for dinner at The Ivy.
49) Be naughty and go into *one of those* DVD shops in Soho.
50) Pretend you're interesting in buying an outrageously expensive item of clothing at Harrods.
---