London's Royal Guards are universally renowned for their stoney expressions and stiff postures. Their ability to keep a straight face despite (some quite hilarious) attempts to crack them is astonishing. We couldn't even keep it cool if a mate whispered 'fart' to us during a telling off at school. Imagining the rigorous training it takes to maintain a neutral expression for hours on end, (we're thinking pictures of animal photobombs and a substantial fine at every snigger – impossible), it's nice to know that they are, after all, human.
1. When this guard's boredom reached new highs.
2. When this guard had just. had. enough. of. those. bloody. tourists.
3. When this guard had a few too many before his shift…
4. When this guard caved.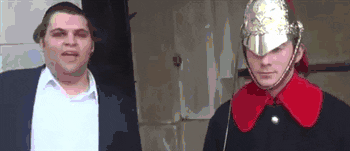 5. When this guard got a fancy makeover.
(Big, fury) hats off to you guys though. Really.
Featured Image Credit: Tumblr: James P Blair
---