Summer is officially on its way out. Farewell vitamin D. Adieu Frappuccinos. Adios unprejudiced afternoon drinking. Yet fear not my friends. It also means that autumn is on its way in baby! Bring on the corduroy trousers and guiltless Netflix and watch the leaves turn with sweet remembrance as to why summer isn't always the month it's cracked up to be…
1. The unrelenting Amazonian rivers of sweat infinitely running down our faces.
2. The sheer agony of sunburn.
3. The concealment of eating carbs. "I NEED THEM TO KEEP WARM".
4. Because autumn doesn't need you to be 'beach body ready'.
5. And neither do you. ("Goodbye sucking in stomach, it's been a blast.")
6. So you can now guiltlessly and openly enjoy things like this.
7. And this.
8. Straw Hats.
9. Shorts that do not even begin to contain one's buttocks. (I'm no prude, but you can't un-see these things man).
10. The feeling of suffocation and incineration on the underground.
11. This.
12. Spontaneous showers. Because summer in London isn't ever truly summer.
13. Sweaty, dehydrating sexy time.
14. Because English summer doesn't warrant AC.
15. Or a 'summer duvet'.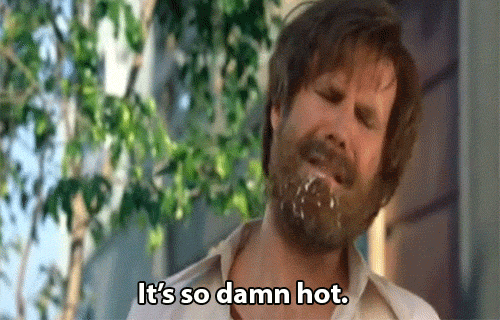 16. The shame of wanting to stay in and watch Netflix.
17. Which you can now do so freely without being accused of being either antisocial…or pregnant.
18. That feeling when you realise that you've forgotten your sunglasses.
19. As well as your umbrella.
20. And moisturiser with spf in.
21. And coat.
22. Because summer is a tease. And being the sensitive souls that we are, a bit of consistency would be nice.
Featured Image Photo Credit: Bronx Banter Blog
Facebook Featured Image Credit: @jacob
---