The tube on New Year's Eve is the ultimate people watching spot.
God bless Transport for London. By offering free travel on New Year's Eve, we can merrily trundle around without paying extortionate Uber fees that will definitely NOT see 2018 off to a good start. The only slight downside will be the, shall we say, interesting specimens, who will rise up from whatever deafening night-rave they have come from, only to cause what your mother refers to as 'a stir'. Keep your eyes peeled and your wits about you, Londoners.
1. A million sunglasses shaped like '2018'
You are so chic and so original and you definitely will use those again.
2. The rear end of a 50-something banker
Why do they feel the need to share such pale, dimpled buttocks with the rest of the world? Nothing more unsightly than a drunken man, in a suit, with half of him covered and the other half flying in the wind (and possibly emitting some).
3. A half-eaten Domino's pizza
Riding around on its own little seat, filling the carriage with a scent so dividing that you remain in a constant and ferocious battle with your self-discipline over whether to just finish the damn thing and save everyone else from such a miserable fate.
4. An extreme over-sharer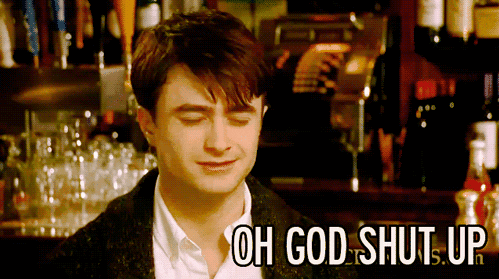 This particular over-sharer will sidle up, breathe Baileys into your ear then proceed to recount their 2016 to you in extreme (and we mean EXTREME) detail. Over-sharers are workable throughout the rest of the year; you pat them on the back and agree that their ex is such a bastard and then you move on. On NYE however, you are subjected to every high and every low that 2016 had to throw at them. And they will fit it in the two stops between Leicester Square and Holborn. Amazing.
5. Prosecco bottles. Everywhere.
We're all too cheap to buy champagne, unless we buy it from someone's van in a last ditch attempt to be 'fancy' and even then it'll probably be called 'Möwet'. So here's to Tesco and their delightfully cheap and cheerful, own-brand 'Secco. We love that we can drink you from any receptacle and still be okay with it.
6. A break-up
One must try and remember not to gawp too widely when such an event occurs. If there are tears and tissues then remember to provide the latter and mop up the former. Also, only eat salted popcorn.
7. A fancy dress outfit that has no ties to the new year
Why are you dressed like that? What is your theme? Why are you not adhering to the appropriate rules of fancy dress etiquette? WHY IS A TACO A SIGN OF THE INCOMING YEAR?
8. Dogs in costume
We love doggies but love them even more when they're dressed as a firework/Elvis/a birthday cake. Note that the fancy dress rule does NOT apply to four-legged friends because they obvs get away with whatever they like.
9. A potential (second) New Years Eve kiss…
Maybe your first one was just a convenient peck on the cheek or maybe you second-guessed yourself after she/he declared themselves 'besotted'; a word unheard of in colloquial conversation and much better suited to an Austen book. Regardless, this person, standing against the pole in the perfect outfit, with the perfect shoes and the perfect smile is deffo who you want to second-snog. Do not part your lips immediately, simply saunter/swagger over and say something about the weather. Then, and only then, can you lunge for their tonsils with your tongue.
10. Your hopes and dreams immortalised in human form.
Maybe it's a guy holding an acoustic guitar, which symbolises the failed attempt your band 'Meatcleaver' made at Battle of the Bands. Perhaps it's the exhausted bartender, which reminds you of the cocktail course that you never took. Or maybe it's the girl with chestnut hair and an umbrella, who reminds you of that girl you once saw on the tube and fancied with chestnut hair and an umbrella and wait A SECOND-
---